Oh, man...Hey...Sorry it's been so long :\
Apparenty, it's been so long I don't even know where to begin, I've just been staring at this blank screen for awhile thinking about things. I have two new dragon paintings, a bunch of auctions running on eBay, some new raven prints up in my Zazzle shop...good times!
I will begin with the dragons- two brand new original paintings! The first is "Live Gargoyle"- a big eyed dragon perched on the rooftop ledge of some unknown building, peering into the night. He is an original 4" x 6" acrylic painting (on canvas) up for auction on eBay! Bidding starts at just $15- to see more pictures, read about the art, and perhaps even place a bid to own this lovely creature, please visit the link below the picture: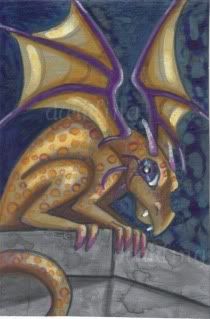 "Live Gargoyle" original dragon fantasy painting
I do also have a bunch of eBay auctions running- ACEO prints starting at 99 cents, 4" x 6" print sets (three per set) of some of my dragons starting at $6, and some originals starting at just $15!! To see all the art currently up for auction, please click
HERE
!!
The other brand new dragon painting is titled "Silver"- a grey dragon half wrapped in his wings, against a yellow-gold background...an interesting color combo...This piece is an original acrylic painting, 4" x 6" on canvas, available in my etsy shop at the link below: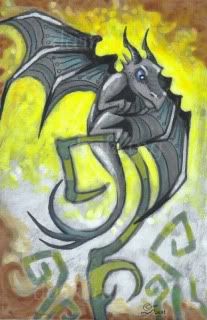 "Silver" original grey dragon painting
I've also relisted a few favorite original pieces in my
darklingemily etsy shop
, after much debate as to whether to keep them for myself. I suppose I can just live with them until it is time for them to find their new and appropriate homes. So, if you are in the market for a colorful and strange painting for your space, do consider visiting my shop
darklingemily.etsy.com
Now, for all you raven lovers- I have put up some new print sizes and options for a selection of my raven pieces, with more to come when I can find the time! Check out all the raven-y goodness at the link below the photo: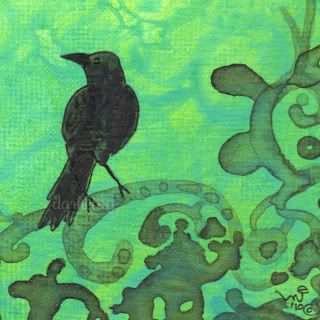 Em's Raven Prints, Posters, and more on Zazzle!
So, the burlesque show was phenomenal! I had a blast, met a ton of great people, saw some friends, drank some drinks, took in a glorious show, and Ii am still a little tired from it, even though it was last weekend. Well, okay, I am tired from working through all of it and then...oh, haha, wait, I forgot...I jsut work all the time! Still in commission land, and...I will warn you now, I will be reworking my commission set up and pricing very soon...I may very well close down commissions for awhile. So...If you want a custom piece from me, now would be the time to squeak in! I will say that once I close commissions, I will not be reopening them again until next year. I think you have about 2 weeks to decide ;)
I know my art output has been lackluster of late...and I have no justifiable reason to apologize. I keep starting projects and then returning to commissions, and then starting more pieces, etc. It has been like tis for...weeks? a month? longer? I am not sure anymore. But hoooooo-frickin-ray for the day where I have time to paint for myself again, because I am going to bust out a lot of work. Right now, though, I am going to relax and read a little bit.
xo!
Em
Visit my website- tons of images available as art prints and posters:
darklingtreasures.com
Loads of fun stuff- T shirts, stickers, mugs, stationery, bags, buttons, and more in my
Zazzle Shop
!