Well, hello there!
So...A new painting!! Hooray!! I have been quite slackerly with the blog, and for that I am truly sorry. The more I joke about feeling sympathy for the White Rabbit, the more like him I become. Forgive the lack of work in progress shots, too. I've been posting them to my personal Facebook profile, and not my Darkling Treasures Facebook page, mainly because I feel like it's a waste of time. I've had to go back to basics, for sanity's sake (hahahaha, like I even know what that IS)...Back to basics is:
WEBSITE
, this BLOG, and my
personal Facebook profile
. Feel free to add me
HERE
as a friend, though I MUST reiterate: This is my
personal
profile. I may not actually be as whimsical, innocent, or even as nice and sweet as I perhaps (and quite accidentally) have led you to believe.
*ahem* aaanyhow, onto the new art!! Weee! "Outersea" is by far one of the most detailed, tedious, and irritating piece I have worked on to date. Strangely, she is also pretty impressive. At least I think so. After the initial concept re-sketch in pencil, I had no plans for her. No color scheme, no background ideas, no real
purpose
behind her...just flying by the seat of my pants. So, I spent a lot of time just staring at her, a bunch of grey lines on an otherwise white canvas. At a certain point, I just started adding color, because sometimes you have to work without inspiration...that's when it will sneak over to you and attack your toes under the desk. Perhaps that was my cat. It doesn't matter now. This mermaid lady and I went with the flow until we decided she was complete. Here is the finished painting: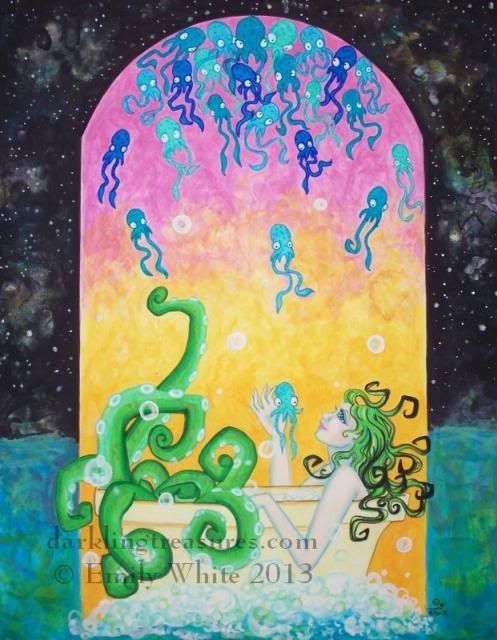 "Outersea" original mermaid octopus painting- for auction on eBay
She's currently up for auction on eBay
HERE
for ONE MORE DAY, and if she ends with no bids, she does have a destination. What I am trying to tell you is that this is your only chance to get the original!! And at half price, too! That's a wicked good deal. Just sayin.
Of course, I do have a SONG to go with this piece :) "Splish Splash" by Bobby Darin:
Also noteworthy- I've got some special NEW ACEO art prints of "Pris-tend" and "Button Pusher" listed for auction on eBay. I call these 'special' because they are DOUBLE SIDED!! This is something I've been wanting to do for awhile now. The ACEOs are professionally printed in archival inks on cardstock- the front features the full color painting, and the back displays the original concept illustration and the story blurb to go along with the piece. Because these prints have art on BOTH sides, I *have* raised the starting bid from my usual $2 for an ACEO to $3, but that is still a fair price. Check them out: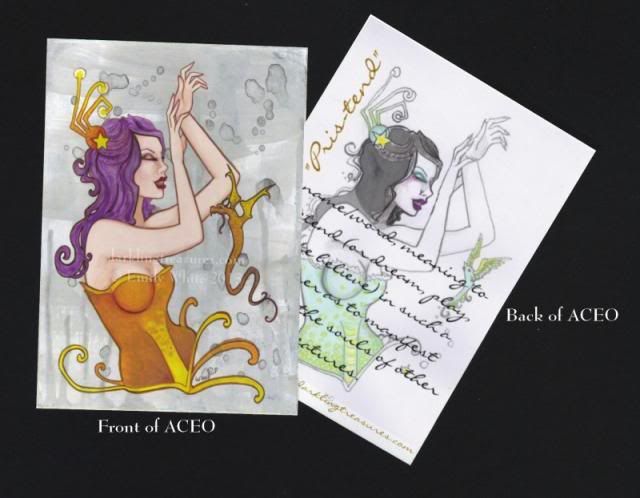 "Pris-tend" double sided ACEO print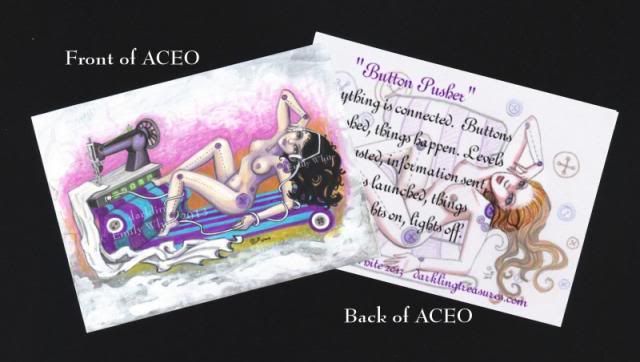 "Button Pusher" double sided ACEO print
Ooh, and a new original Dragon Doodle! This is "Cold Shoulder":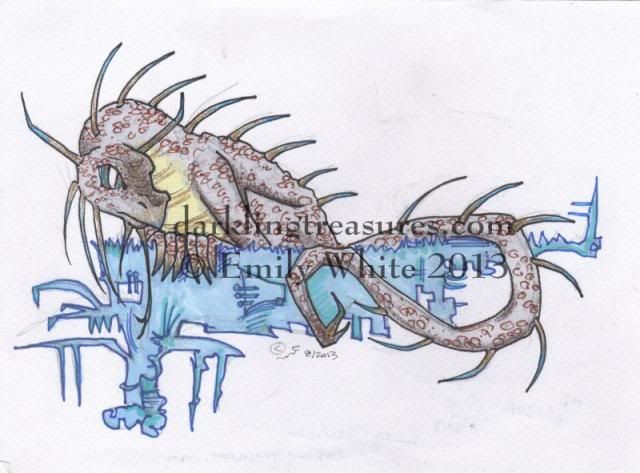 "Cold Shoulder" original dragon sketch art on eBay
Now...back to the desk!!
xo!
Em
Visit my website- tons of images available as art prints and posters:
darklingtreasures.com
Loads of fun stuff- T shirts, stickers, mugs, stationery, bags, buttons, and more in my
Zazzle Shop
!