Hi all!
Sorry, I know it's just been one day longer than usual, but I feel like I've lived three weeks in one...Sadly, one of my kitties has left this world, and so I am dealing with that loss, trying to take a little extra time out of my schedule to just...be. :( But...on a happier note, I do have some new art to share, a new comic strip, and some fun stuff on Zazzle!
Now, the new paintings: "Storm Cloud City"- a little 6" x 4" sky scene- a (tastefully) nude angel sitting on a storm cloud, with a floating sky castle in the distance. I really like how this piece turned out, and am rather impressed with all the details I could get into such a small space. She is available for in depth viewing and purchase through my
darklingemily etsy shop
at the link below the picture: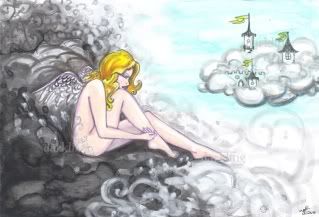 "Storm Cloud City" original nude angel + castle fantasy art
Also new- "Speckle"- a cuddly, colorful, cute creature of the dragon variety- big, bright eyes, and a slight look of trouble about this one...This is an original 4" x 6" acrylic painting, available for auction on ebay now! A $15 starting bid can potentially get him into your home! To see the auction listing and more pictures, please visit the link below: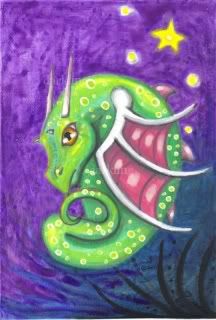 "Speckle" original big eye dragon painting
As always, I have a bunch of other wonderful art auctions running- prints and originals! To see them all, kindly click
HERE
!
Finally, after a long wait...I have put up a new comic on my Facebook page
HERE
! These are just silly things that happen, that I think about, and that stick in my head and make me smile. Many of them are lewd and I am not going to apologize for that. But I will apologize for not apologizing (sorry!) Anyhoo...Here is the link to the latest:
"Heavy Cream" comic by Em
My
Zazzle Shop
has been recently updated with a TON of new buttons and mugs! Also, some new Doodle speakers! To see all the fun new things, just click the link below the picture: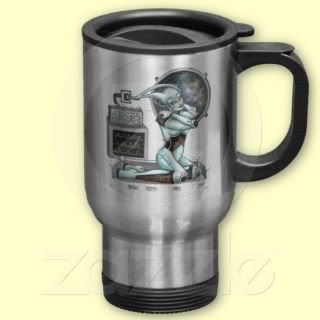 New Buttons and Mugs on Zazzle!
Mmmm, I think that is about all for the moment. I do not feel much like rambling tonight. I think I will just go play with some paints for a bit.
xo!
Em
Visit my website- tons of images available as art prints and posters:
darklingtreasures.com
Loads of fun stuff- T shirts, stickers, mugs, stationery, bags, buttons, and more in my
Zazzle Shop
!