Greetings all!
Well, the gears are whirring away over here, too fast for my hands to keep up (what else is new?) I brought some sexy ladies, some fire art, and some funny with me :) Here, I'll show you:
Two new pin ups! One of them is nekked- "Buttons" is a pretty tattooed nude, lounging over a chair...this is just a little doodle/sketch with a splash of color thrown in. She is 7" x 5" in pencils and ink on canvas paper, and is up for auction on eBay with a starting bid of $10. To see her listing, more pictures (the uncensored ones, with nip!) and perhaps even place a bid, please follow the link below her pic: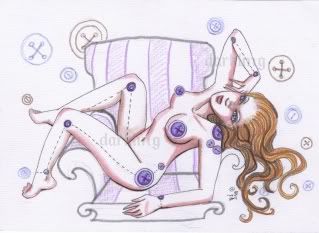 "Buttons" original nude tattooed pin up illustration
The other pin up illustration/sketch is titled "Voyeur Moon"- a full moon watches this bright girl's every move...kinda creepy, but it's the moon, it watches everyone ;) She is also an original 5" x 7" pencil and ink illustration on canvas paper. Up for auction on ebay with the same $10 starting price. Check out more at the link below her picture, if you please: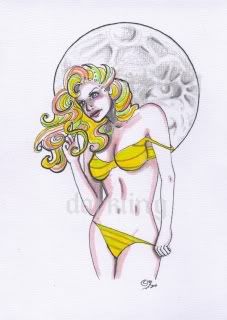 "Voyeur Moon" original pin up illustration
I also have a bunch of other art auctions running, as always- small art prints starting at 99 cents, plus other originals and goodies! To see everything currently running, please click
HERE
!
Mermaid time! woo Hoo! I feel like it's been awhile since I've created a proper mermaid, and awhile since I've worked in an unfamiliar medium, so I thought I'd be all crazy and do both at once hah hah! I have created this mermaid- "Fynn", as I have named her- on a small panel of wood (about 2.75" x 7.25"), using a heated wand to burn her into the wood! This form of, uh, art, is called pyrography. I then gave her a light wash of blue for her skin, and darker blue for the background...and she is complete! This was just a practice piece, but! She is up for auction on my Facebook art page :) Bidding starts at $0 (though last I checked, bidding was up to $10), and you can see all the info, pictures, and even bid at the link below the picture: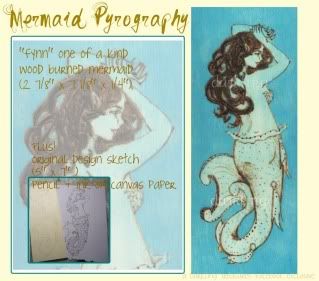 "Fynn" mermaid pyrography art auction
(a FB exclusive!)
Now...I have a brand new comic up! I just show these on my personal FB page, though I try to remember to share them with my art page, too :) This one is about my day job, kind of, yes. I spent a lot of time over my days off sketching up a new batch (yes, that's right, more than one!) and inking them in, so there will be more on the way! I am taking it very slow and releasing one new comic a week, so that I don't overload. Here is a link to the latest and greatest:
Em's funniez- the newest
So, that is it for now. I have been doing a LOT of plotting and planning, sketching, mapping...bookmarking, researching, note-taking. And no, I am not ready to say why. Really, it is nothing I don't normally do with my time. Let's just call it gathering for winter. But it kind of sounds more like I am preparing for an adventure of sorts...hmmm. ;)
xo
Em
Visit my website- tons of images available as art prints and posters:
darklingtreasures.com
Loads of fun stuff- T shirts, stickers, mugs, stationery, bags, buttons, and more in my
Zazzle Shop
!