Hello!!
Didn't mean to drop off the face of the blogosphere, but...life happened. I do have some work in progress pictures of the "Dutchess" re-paint for you! Also, some MORE updates, yeesh...
So, this is the original illustration of "Dutchess":
There is ONE ACEO print of this version of "Dutchess" left, up for auction
HERE
on eBay! I will also be including an ACEO print of this version with the NEW PAINTING ;)
She was originally a little ACEO piece, but NOW she is becoming a large 11" x 14" painting!! Complete with my messy ink look!! A few progress shots for you: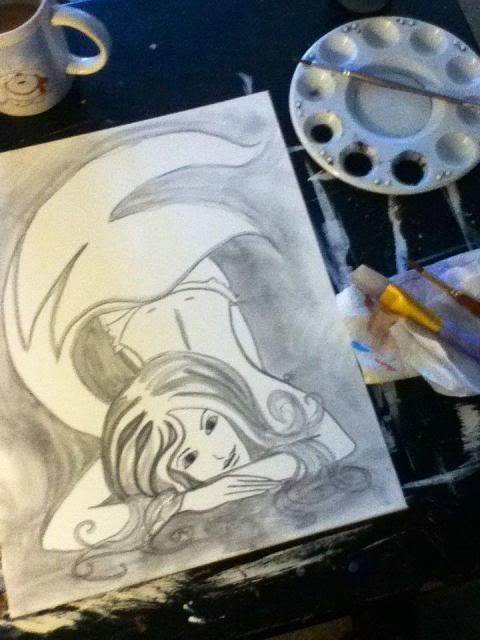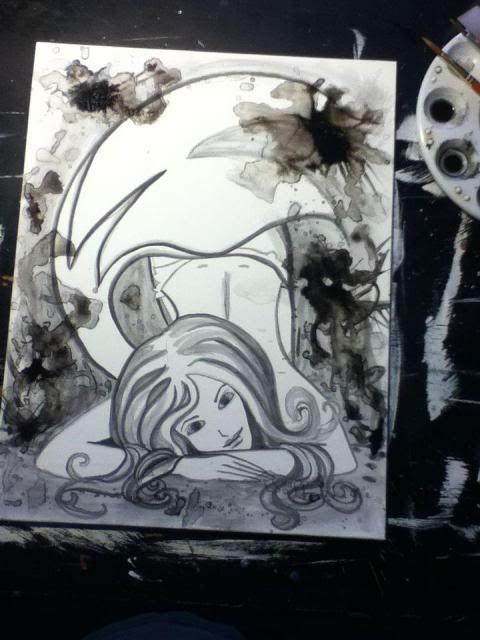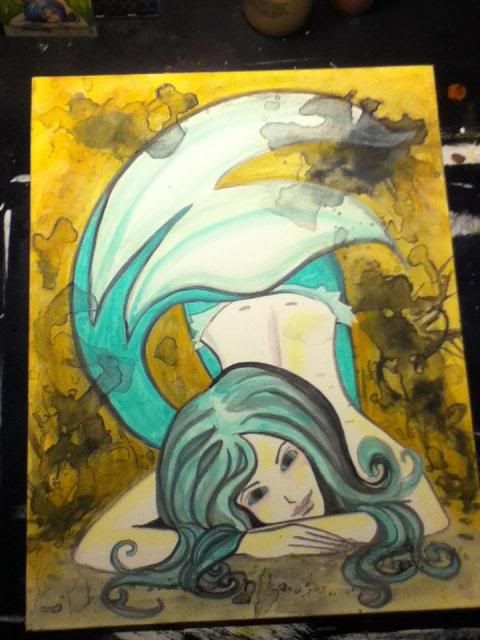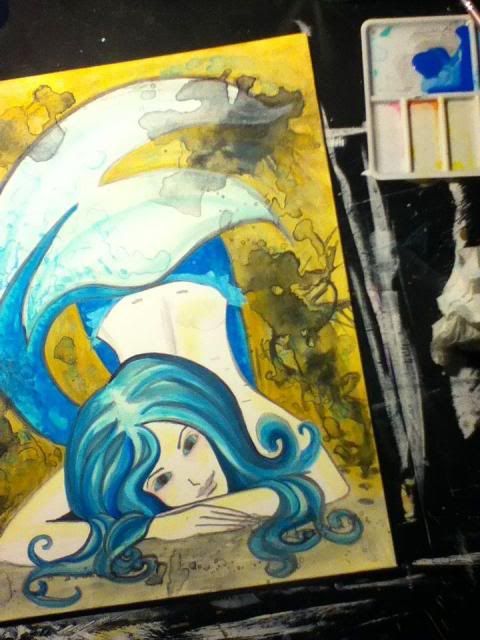 As of this blog post, she is complete, and I should be listing her on eBay sometime in the next few days (I will have a seperate post for that!), barring any severe craziness (I may have just cursed myself there...)
Also- Mermaid March Madness is over, but go ahead and visit my website
HERE
to see ALL 31 of them!! There are still many available for purchase- each one is $15...I am slowly listing those that are available on eBay, too....
Mermaids and More on eBay!
Now, quick updates:
First, I have gone ahead and revamped my eBay listing template- Nothing intense, I just wanted it to look more like my website :) So, for those of you who have noticed the change, and were possibly wondering what was going on with that- yes, it is still lil ol me! We are not attaching ourselves to EBSQ anymore, which leads me into update #2:
I will be removing my art from EBSQ- it's a long and slightly poopy story, but let's just say I don't like to pay for services that are not provided, and we'll leave it at that. I will be moving over to deviantart.com- slowly...very slowly. I have decided, for reasons related to sanity, to retire MOST OF MY ART. I know, that's a LOT of art to retire. What I mean when I say "retire"- I mean, no more prints. I DO NOT MEAN relinquishing my copyrights. I do not mean throwing my art in the garbage (maybe a few pieces). I will be 'curating' the works of mine that I have chosen to NOT retire...things will be set up a bit differently. I want to organize them into "stories" or "similar voices" or...eh, it's hard to explain. So that will take a bit of thinking on my part (dang, I can't ever escape the thinking!!!) I will certainly keep you posted!!
The print set up for all my new pieces (beginning with "Fool's Blood") will also be a bit different...I've been pondering the limited edition vs open edition point. I just realized, I have probably bored you to tears with this. This is probably what I am thinking about when you are talking to me in person and I have a glazed look on my face...Or maybe I actually look like I am listening to you? I have very little idea what is going on outside my inner world, and my studio, lately. I hope that I have been decent enough to you that you would naturally have a touch of patience for me at this time :)
You know what? More frequent updates can be found on my Facebook Page:
Darkling Treasures on FB
xo!
Em
Visit my website- tons of images available as art prints and posters:
darklingtreasures.com
Loads of fun stuff- T shirts, stickers, mugs, stationery, bags, buttons, and more in my
Zazzle Shop
!