Yoy!
I am afraid that my focus is not what it should be lately. I am all over the place! Too many ideas to be able to finish one with patience, without going off on some random tangent...Sometimes I wish I was not my own boss. I could really use someone around once in awhile to yell at me to get back on track. Heh heh!
But I will just have to manage on my own for now. EEE!! "Someone left Emily to her own devices...everyone watch out!"
Anyhoo...I am here to inform you all that this blog post is about dark arts, so if you are here for "pretty" or "cute", you are S.O.L. this round, sorry! :P First, I have put up my ORIGINAL "Mervamp" painting for auction on eBay- yes, my beloved blood sucking mermaid vampire is up for a 10 day auction, starting at just $35, with free shipping! She is an original 12" x 9" acrylic painting on gallery wrapped canvas, and I am hoping that she finds just the right home where she will be loved and cherished despite her evil tendancies.
To see the auction listing, and perhaps even make a bid, please follow the link below her picture:
"Mervamp" original dark fantasy art auction
I also have an assortment of dragon ACEOs listed, each starting at just $5, most are prints, some are originals...You can view all of my eBay listings at this link:
Emily's eBay listings
This next batch of art is something very exciting to me, though I am not sure why, as they came from a fairly simple idea...I just really love them! They are my latest addition to my
zombietoes
etsy shop...Zombie ink blots! I've gone and taken the Rorschach psychology test and twisted it up a bit in my Zombie-obsessed brain; there are multiple ink blots to be seen and had! These are prints, and open edition at that, but they are somewhat subtle as far as zombie artwork goes...At first glance, they just look like, well, ink blots! I've used a bunch of silhouette zombies from my assorted illustrations/paintings, and added in a few new ones...
To see all I have listed so far, please visit the link below the picture: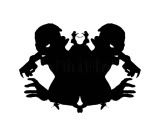 Zombie Ink Blot Art Prints
So, that's about it...I am in the midst of a really fun painting, so...I'll be off now to get her finished!
xo!
Em
Visit my website- tons of images available as art prints and posters:
darklingtreasures.com
Join me on Facebook:
http://artist.to/darklingtreasures