Oh, weekend...
I finished up the really fun painting today! I am in love with her! She's a nude dragon-vixen, with piles of skulls and an eerie yellow-orange glow behind her...I've titled her "Dremon 1", as I feel this is the beginning of a series...Right, just what i need is more series(es?) heh heh! "Dremon 1" is listed in my
darklingemily
etsy shop, with free shipping, and lots of detail photos. To see her, and take her home with you (if you dare), please click on the link below the picture: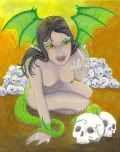 "Dremon 1" original fantasy painting
I've also listed another Zombie Ink Blot (#3) in my
zombietoes
etsy shop- and there are more to follow in the next week! To see the latest, please follow the link below the picture: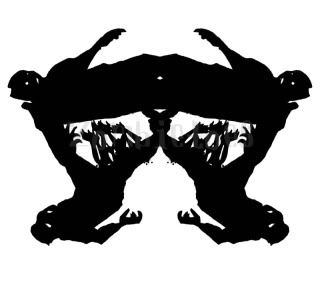 Zombie Ink blot #3
So, not a lot of new art tonight. I'm in the process of drawing out some flipbooks, which is going to take forever and is quite tedious, but sooo worth it! The one I am currently working on is a zombie flipbook, but I have a TON of silly little ideas floating around in my head, and would love to get them all out (eventually, if my focus allows). I also got some work done on one of my graphic novel ideas today, so thank goodness for that! I feel mostly productive, even with sleeping in until 10 am like a bum with no job heh heh! Whatever, it's Saturday, right? Right.
Anyway, enough pointless rambling, I have 40 tiny illustrations to ink in, and then...Probably bedtime. Hopefully bedtime. But...we shall see.
xo!
Em
Visit my website- tons of images available as art prints and posters:
darklingtreasures.com
Join me on Facebook:
http://artist.to/darklingtreasures