I have some good news for all of you- SALE! Also, a brand new jester pin up, and my very first zombie flip book!
Very first- February marks my two year anniversary of my
darklingemily
etsy shop, and to celebrate, I am having a month-long sale! Here are the details (and they can also be found on the front page of my shop):
I have marked down MANY of my original paintings!
Here's the short list:
5" x 7" original paintings- $22 (some are even $20!)
6" x 8" original paintings- $28
8" x 10" original paintings- $45
Plus- when you spend $10 or more, you will receive a free set of these bird bookplates:
http://www.etsy.com/view_listing.php?listing_id=39303620
If you would like me to personalize them for you, just send me a message when you check out with the name you would like on them...Otherwise, I will leave them blank :)
There are also numerous other items on sale; to see everything that has been marked down, simply type "SALE" into the search bar at the top of my shop homepage!
This sale will run until the end of February.
Here are some originals that are currently on sale: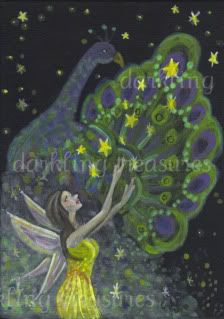 "Beautiful Night" fairy + Peacock- $20
"A Little Trouble" dragon- $28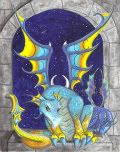 "Attitude on the Edge" dragons- $45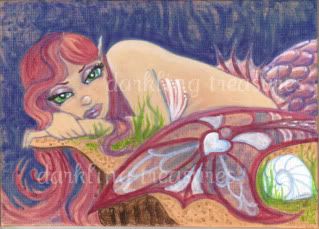 "Sweet Siren" mermaid- $20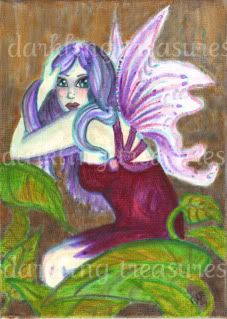 "Red Wine" fairy- $20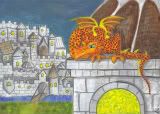 "Along the Watchtower" dragon + castle- $22
All of these have FREE SHIPPING, too!! Go check it out!
Next, my latest pin up jester. This one is titled "Sprinkles On Top", and she is a big fan of donuts! I have to admit, my personal favorite has always been Boston Cream, and it's not just because I'm a Mass-hole; any donut with no hole means MORE DONUT hee hee! Here is "Sprinkles On Top" - she will be available as prints and posters through my website next week: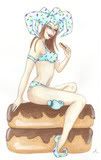 And, last but not least, I have been hard at work on my very first zombie flip book- the physical book version is still in the prototype stages, with a few kinks to work out...BUT!! I have put together an animated gif:
if it is not showing up, you can see it at this link:
"Chomp" short zombie animation
I am hoping to have the actual flip books available in my
zombietoes
etsy shop sometime tomorrow, or perhaps I will get a second wind and bust it out tonight...though it is getting rather late...
xo!
Em
Visit my website- tons of images available as art prints and posters:
darklingtreasures.com
Join me on Facebook:
http://artist.to/darklingtreasures