Mornin'...
This is a quick post, because I am actually testing out my import settings for Facebook (yay)...But, I also wanted to let you all know that I have updated my website galleries with a bunch of new art!
Here are some of the newbies- limited edition prints and posters are available direcly through my site, and everything ordered there ships for free! Now, on to the art:
One new image from my
Fantasy Gallery
: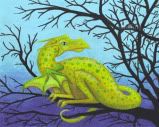 "Dusk" dragon
One from my
Miscellaneous Gallery
:
"Raven 9"
And, one from my
Sexy Gallery
: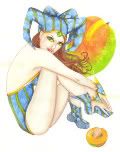 "Mangolomaniac" jester and mango pin up
Again, there are many other new images, and the recent ones are always at the top of the page, and marked with "NEW" for easy viewing. The galleries have grown substantially over the last few months, so if you have not visited
Darkling Treasures
in awhile, I do implore you to do so if you like! There are also a million other fun things there, including links to other artist websites, a brief bio on yours truly, commission information, links to my art around the web...and more! Wishing you all a wonderful day ;)
xo!
Em
Visit my website- tons of images available as art prints and posters:
darklingtreasures.com
Join me on Facebook:
http://artist.to/darklingtreasures