OOh, I have been busy painting away...Tonight, I have two new raven paintings, and an older painting up for auction at a super low starting bid!
I've picked up on my ravens series, after many months off to persue other things...But now I have two new additions to share! These are both small pieces, painted in acrylics on 5" x 7" sheets of canvas. They are slightly abstract, a little bit swirly, a little bit smokey. Each is listed in my
darklingemily
etsy shop, at sale price for my two year anniversary! To see them both, just follow the link below each picture:
"Raven 8" original painting
"Raven 9" original painting
I'm definitely in a bird mood, so you can bet your butt I'll be making a few more raven paintings to share!
Also tonight, I have put up one of my Cartoon Aquarium pieces for auction on eBay- "Kellie, Ellie, and Nellie" is my original cartoon jellyfish painting; I just love this one, they remind me of giggly marshmallows! Anyhoo, this is the ORIGINAL painting, measuring 11" x 14" on gallery wrapped canvas, and it is up for a very low $35 starting bid! To see the listing, and perhaps make a bid, please follow the link below the picture: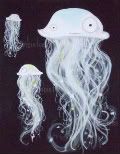 "Kellie, Ellie, and Nellie" original jellyfish painting
I think I have too many projects rolling around in my head again, and I'm having a hard time focusing on the task at hand, even with my dayplanner always at my side. I know it's a good thing to be so inspired, but...sleep is also a good thing; so is balance. I will have to find a way to get all my craziness in order before it all comes crashing down on top of me...Yoy!
xo!
Em
Visit my website- tons of images available as art prints and posters:
darklingtreasures.com
Join me on Facebook:
http://artist.to/darklingtreasures