Hi Hi!
So...I have a brand new painting to show off (actually, it is a set of two paintings), plus website gallery updates, and probably a bit of rambling :)
The latest paintings are a set of two small pieces, each measures 5" x 7"...They are "Dragon Koi Fish # 1 + 2"- I just love these little guys, and I wish so badly that they were real creatures! Of course, I do love "normal" koi fish as well :) I just though putting a dragon spin on them would be cool!
So, they are listed as a set in my
darklingemily
etsy shop, marked down for my anniversary sale (along wil many many other originals). To see detail pictures and read the little blurb, please follow the link below the picture: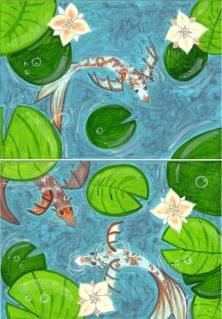 "Dragon Koi Fish 1 + 2" original fantasy painting set
I also wanted to let you all know that I have updated my website galleries with a bunch of new art!
Here are some of the newbies- limited edition prints and posters are available direcly through my site, and everything ordered there ships for free! Now, on to the art:
One new image from my
Fantasy Gallery
: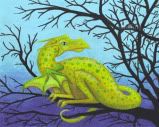 "Dusk" dragon
One from my
Miscellaneous Gallery
:
"Raven 9"
And, one from my
Sexy Gallery
: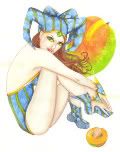 "Mangolomaniac" jester and mango pin up
Again, there are many other new images, and the recent ones are always at the top of the page, and marked with "NEW" for easy viewing. The galleries have grown substantially over the last few months, so if you have not visited
Darkling Treasures
in awhile, I do implore you to do so if you like! There are also a million other fun things there, including links to other artist websites, a brief bio on yours truly, commission information, links to my art around the web...and more!
I have been a bit behind schedule as far as actual creation goes...Real life has been somewhat demanding lately. :) (Who knew? heh heh!) But, I do really want to get some new stationery sets designed (these usually consist of specialized note paper, cards, stickers, bookmarks and plates, and a few tags, among other paper goodness). I'm also slowly getting more jesters sketched out, and have begun writing limericks for a possible Zombie Limerick Book #4...Yay! At any rate, I am beat, tired, and worn out, but still have a ton to get done, so...I'll be off!
xo!
Em
Visit my website- tons of images available as art prints and posters:
darklingtreasures.com
Join me on Facebook:
http://artist.to/darklingtreasures