Good evening!
Well, I have a brand new raven painting (yes, another!), along with some new cross stitch patterns, and a low-starting-bid original painting auction!
I really have been on a raven painting kick lately, and "Raven 11" is the newest painting in the series! This one is a bigger raven, with some detailed feathers, perched on a branch before a red and purple backdrop...It is a small 5" x 7" acrylic painting, and is listed at sale price in my
darklingemily
etsy shop. To see detail pictures, and perhaps even purchase it, please follow the link below the picture: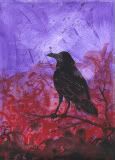 "Raven 11" original painting
I am now offering the other recent ravens ( #8, 9, and 10) as posters and prints through my
Zazzle shop
. These prints can be customized to your preferred size; you can also get them matted/framed/printed on canvas! Very cool! To see all the raven stuff I have on Zazzle, please click the link below the picture:
Em's Ravens on Zazzle
For all you cross stitchers out there,
Misty Dreamz
has just put up a handful of new cross stitch patterns from my original dragon paintings :) Some of the latest patterns include "Attitude on the Edge" and "Vineyard"- to see all the new patterns, just click
here
! You may have to scroll down a ways- there are many other wonderful artists' patterns there as well!
There is another original Cartoon Aquarium painting listed on eBay tonight- "Dinah" is the ORIGINAL goldfish painting from my silly ocean creature series. She is a 10" x 8" acrylic painting, on gallery wrapped canvas. Up for a 10 day auction, starting at a very low $35 bid (with free shipping)- to see her (and her little grey friends) please follow the link below the picture: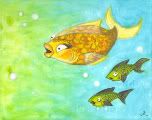 "Dinah" original Cartoon Aquarium Goldfish painting
Now, I've got a bunch of website gallery updates to get to, and if I'm not too tired, some painting/sketching/folding/sewing...who knows!
xo!
Em
Visit my website- tons of images available as art prints and posters:
darklingtreasures.com
Join me on Facebook:
http://artist.to/darklingtreasures