Hello!
So, tonight's art goodies are a bit random (though that seems to be my M.O. lately)...I've got a new addition to the Cartoon Aquarium, some new Funny Bunny ACEOs, and one more raven to share!
I know I've busted out a whole slew of raven paintings over the past few weeks- I just love the ravens, they fly right into my head and then right out again, onto canvas. It's a very seamless process, something I am quite thankful for. It's the closest I've ever come to "Art efficiency" heh heh. The hardest part is waiting for one layer to dry before starting on the next layer...
At any rate, here is the latest rave- "Raven 16" features two snuggled birds in a bare birch tree...I like this piece a lot, it seems very quiet, like a fresh-snow walk in the woods on a Tuesday morning when the rest of the world is at work or school...Ah, the quaint pleasures of having my own schedule! I'm rambling again...This piece is an original 5" x 7" acrylic painting on a sheet of canvas. It was listed for sale earlier in the day, but it has already sold! You can still see the picture here: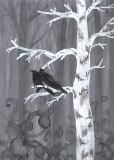 Next, I have a BRAND NEW Cartoon Aquarium painting! It's been awhile since my last C.A. piece, and I nearly forgot how much I love painting all the strangeness in the ocean! This round, I have a small 8" x 6" acrylic painting of three spiny urchins amongst colorful coral and seaweed. I have allowed my inner child to title this one, as I do most of them- "Three Sea Pricklies" is the name- it is available through my
zombietoes
etsy shop... The link is below the picture: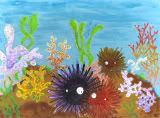 "Three Sea Pricklies" original Cartoon Aquarium painting
On eBay this evening I have listed the next two "Funny Bunny" ACEOs- #3 and 4! These are little original mixed media art cards (measuring 2.5" x 3.5", or landscape at 3.5" x 2.5"). They are created in archival inks and colored with acrylic paints over a scrap of vintage book page (from an old sewing manual). I made them because, well, I was feeling poopy the other day and needed to get myself out of the poop-rut. They are simply for smiling purposes. Each Funny Bunny ACEO is listed at a $5 starting bid, with free shipping! To see the latest, please follow the links below their pictures: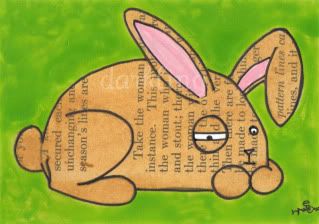 "Funny Bunny 3" original ACEO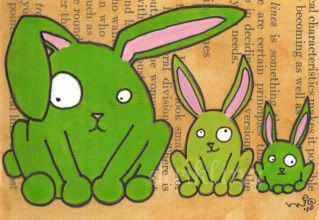 "Funny Bunny 4" original ACEO
Now, I best be off to my desk- finishing up my latest jester, working on a new dragon painting, and some zombies, too!
xo!
Em
Visit my website- tons of images available as art prints and posters:
darklingtreasures.com
Join me on Facebook:
http://artist.to/darklingtreasures