Ooh, I was almost lazy enough to not post tonight, but then thought better of it! This is pretty much the first time I've sat down all day, so, once my butt hit the chair, I was like "ooh, that's sooo nice, maybe I'll just take OOONNE more day off" but...It is not to be :)
Anyway, I have some new paintings to show off tonight, plus another eBay auction (an original dragon painting!)...
First, two new ravens! Yes, I know, it is an obsession at this point...I am sure my mind will turn to another subject soon enough, but for now..."Raven 12" and "Raven 13"! "Raven 12" is slightly different that most of the others in the series, with a more defined "blackness"- in the way of swirly Celtic-like vines! I love this raven, he's got a bit of a blue undertone to him, and the background reminds me of going camping and burning marshmallows...mmmm! At any rate, this is an original 8" x 10" acrylic painting on a canvas panel. He is up at sale price in my
darklingemily
etsy shop. The link is below the picture:
"Raven 12" original painting
"Raven 13" is more along the lines of most in the series- two dark birds before quite a colorful sunset. This is a smaller 5" x 7" original acrylic painting, on a canvas sheet. It is also listed at sale price until the end of the month- to see detail pictures, and perhaps even adopt it, please follow the link below the picture: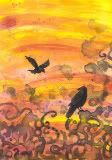 "Raven 13" original painting
While I am on the raven note, I should mention that I have made up some raven stationery and note cards- they are in my
Zazzle shop
, and I will be creating more stationery items with some of the other ravens this weekend :)
As far as eBay goes, I have a handful of original paintings currently listed, all at a starting bid of $35 or less! Crazy! Heh heh! Tonight's listing is also an original painting, my little "Spelunker" dragon. He's a small 6" x 8" acrylic painting, featuring a big eyed white dragon and a bunch of shady bat roommates (or cavemates, rather!). He is up for a 7 day auction, with a starting bid of just $15 and free shipping! To see the listing/make a bid, please follow the link below his picture: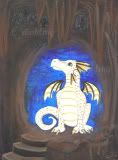 "Spelunker" original dragon + bats fantasy painting
To see the whole list of originals on eBay, click
here
!
(I took a little break from typing this out to make a cup of hot chocolate; it's yummy!) On a somewhat poopy note- the super awesome zombie flip book idea that I have been working on is being *really difficult* and taking up a lot of my time and energy...After much internal struggling, I have come to the conclusion that it is not a good idea for me to continue working on this project for the time being. It was a good idea in theory; in practice, it has proven to be a great big pain in the arse. I am sad to say that I feel like a bit of a failure at not being able to overcome this challenge. It's really more a case of not *wanting* to deal with it any longer. I need to spend my time on more fruitful endeavors. With the amount of time I've spent on this stupid thing, I could have painted many, many pieces of art, or gotten a lot more work done on one of my other books. So, that being the case...i am on to other things :) Perhaps someday I will revisit this idea, hopefully with more patience and energy ;). So, until next time...
xo!
Em
Visit my website- tons of images available as art prints and posters:
darklingtreasures.com
Join me on Facebook:
http://artist.to/darklingtreasures