Only a few pieces to share tonight- yet another raven, and two silly little bunny ACEOs...perhaps a bit of rambling, too...
So, I suppose I will start with the latest raven piece :) This is "Raven 15"- a solitary bird on a tan and blue swirly backdrop...I love these colors together! It is an original painting, measuring 7" x 5" on a sheet of canvas...Up in my
darklingemily
etsy shop (at sale price until the end of the month) with free shipping! The link to see details/purchase is below the picture, as usual:
"Raven 15" original painting
What of Raven 14, you ask? Well, it is a commission piece, but if you would like to see it, there is a link here:
"Raven 14"
. Please note- this is a reserved listing, so unless you are the person for whom it is reserved, please do not purchase this piece; thanks for your understanding.
Also new tonight- Funny Bunnies! I woke up from a slew of terrible dreams and a fitful night's rest this morning, and was not particularly feeling like being pulled in any direction suitable for "the grind"...so I just took it easy and messed around in my sketchbook. Normally, when I am feeling crappy, it comes out as crappy in my art...or at the very least, very dark and brooding. But I really just wanted to be happy, so I forced myself to cheer up by doodling little cartoons...and I came up with these sweet and weird little bunnies! Needless to say, they have already grown into a small series...There are two original "Funny Bunny" ACEOs listed on eBay (in auction format, $5 starting bids)...Each one is illustrated in archival inks and acrylic paint on a scrap piece of vintage book page...Here are the first two: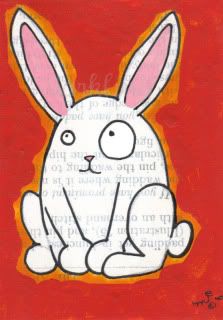 "Funny Bunny 1" original ACEO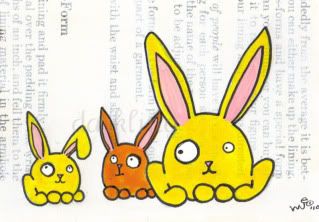 "Funny Bunny 2" original ACEO
As of right this minute, I have no real concept of what tomorrow will bring, as far as art goes. I am nearly finished with my latest commission, which will most likely be completed tomorrow...But other than that, I haven't a clue. I am looking over all these recent series of art and thinking to myself "Damn, this is all so random. The styles are so different...yet they all come from my head." I know, from a professional perspective, it is not a good idea to be so all over the place with my style. I should just stick to one thing and get really good at it. Right? Sure. But...Eff that! I know I'd get bored and stop making art, should I choose to stick with one style. So, in lieu of coming off as a professional and turning my art from passion into "work", I choose to make art for me first, and if anyone else should happen to like it, that's super awesome. It really does make me all warm and fuzzy inside when my work speaks to others. Besides, I am not just one thing. Why should my art be?
That is my ramble for the night. Sometimes, my logical side really gets on my nerves. It helps to shut her up by writing. "Shut up you! Back to your corner! Don't you have paperwork to fill out or something?!" Heh heh heh...No, do not worry, I have not lost my mind. I just spend a little too much time alone with myself. Perhaps it is time to get a part time job, just to have some human interaction on a fairly regular basis...My cat is just not cutting it anymore. :D
xo!
Em
Visit my website- tons of images available as art prints and posters:
darklingtreasures.com
Join me on Facebook:
http://artist.to/darklingtreasures