Almost the weekend...:D
In this post, there is a brand new jester, a new zombie painting, and the last two Funny Bunny ACEOs (for the time being). Also, here is a reminder that my
darklingemily
etsy shop anniversary sale is only going on for another few days!
Okay- fair warning- this new jester is partially nude, and you can see her nips, so if you are uncomfortable with that, don't read this post...:D This is "Fresh Fig"- she is awfully cute, and naked, too! woo hoo! Plus, figs, of course! I am hanging on to the original for now, but if you like her enough to want a limited edition print, they are listed in my etsy shop- the link is below the picture: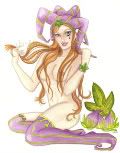 "Fresh Fig" nude jester pin up art prints
For ACEOs, I have number 5 in the "Funny Bunny" art cards series listed on eBay. This is an original illustration in archival inks and acrylic paint over scraps of vintage book pages...The auction starts at a $5 bid, and shipping is free as usual. To see the listing, please follow the link below the picture: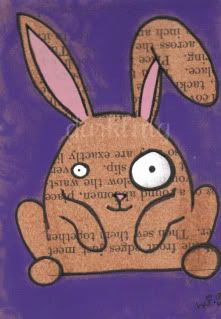 "Funny Bunny 5" original cartoon rabbit ACEO
Last, but not least, is my latest zombie painting! I did not care for it when I first started it, but with enough layers of paint, I have come to like it very much. :) I call it "A Bad Approach"- it is an original acrylic painting, measuring 10" x 7" on a sheet of canvas. It is up in my
zombietoes
shop- to see the detail pictures and read the blurb, please follow the link below the picture: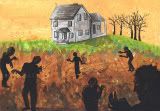 "A Bad Approach" original zombie painting
I've also been working on some other zombie things, but they are not quite ready yet ;) so...back to the drawing table I go!
xo!
Em
Visit my website- tons of images available as art prints and posters:
darklingtreasures.com
Join me on Facebook:
http://artist.to/darklingtreasures