Hidely-Ho!
Tonight's art is mainly ravens- I've listed a brand new piece, plus some bookmarks, and another low-starting-bid eBay auction! Also, some of my book related goodies are featured as the giveaway on The Book Faery Reviews blog!
I'll begin with the new raven painting, of course...I love this painting so much! It's titled "The Locket" and features one big raven flying off with a partially opened locket. It is a tall, thin acrylic painting, on gallery wrapped canvas- measures 10" x 24" x 1". You can see detail pictures and read the blurb I wrote for it at the listing- the link is below the picture: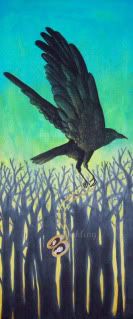 "The Locket" original raven fantasy painting
Also in my
darklingemily
etsy shop are some new bookmarks! These are prints from my other recent raven paintings- there are three different ones up at the moment (ravens 8-10). To get one for yourself (or as a gift for someone awesome in your life) please follow the link below the picture: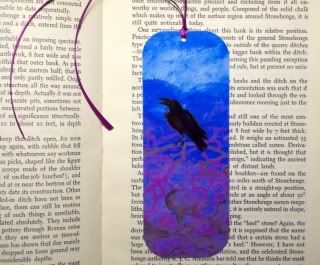 Raven bookmarks (and other book related goodies)
And don't forget- my two year anniversary sale is still going! Many many of my original paintings are marked down until the end of this month! Plus, when you spend $10 or more, you get a free set of bird bookplates! Woo hoo!
On eBay tonight, I have relisted my original Cartoon Aquarium octopus painting "George"...He was up as a "Buy it Now" listing before, but this time I thought I'd lower the price and put him up as an auction listing :) He is up for a ten day auction, starting at just $35...with my usual free shipping! To see the auction, and perhaps place a bid, please follow the link below his photo: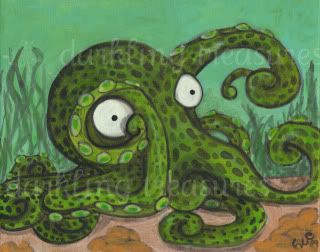 "George" original Cartoon Aquarium octopus painting auction
I have been asked to be one of the sponsors for
The Book Faery Reviews
two year blog anniversary! How serendipitous- we are both two this month! At any rate, I have donated a mini set of bookplates and a lovely fairy bookmark to one lucky winner! If you'd like to check out the blog, the link is here
The Book Faery Reviews
.
One last piece of art before I retire to my workstation for the night- my latest jester! This is "Tiramisu Temptress"- a tasty Italian treat! I will be putting up prints of her in my darklingemily etsy shop later on this week, but for now, here she is: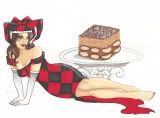 Now, I am off to work work work! :D I'm getting a commission started, still mulling over stationery items and sets...and here and there I am writing random limericks ;)
xo!
Em
Visit my website- tons of images available as art prints and posters:
darklingtreasures.com
Join me on Facebook:
http://artist.to/darklingtreasures