Well, well...
I have two angry dragons and a jester to show you tonight! woo woo! So I suppose I will just go ahead and do that...:)
First, I've put up this original ACEO painting on eBay- auction starts at just $5, with free shipping! His name is "Shrieker" and he ain't no nice guy LOL! I like this one, it's got a rather hardcore feel to it...Look at him up there in the angry sky, screaming and screaming...
Anyhoo...He is up for auction tonight, and you can view the listing, and perhaps make a bid, at the link below the picture: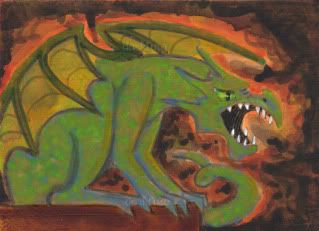 "Shrieker" original dragon ACEO auction
Next, the other angry dragon (can you tell I was a bit crabby?) This one is at least a little less mean- "Along the Watchtower" is an original 7" x 5" acrylic painting, featuring a glowering little orange dragon looking out from a watchtower ledge...You may visit him in my
darklingemily
etsy shop to read the blurb I wrote for him, and maybe take him home with you...I promise he'll behave himself!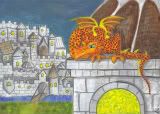 "Along the Watchtower" original dragon + castle painting
Last piece of art for the night-"Mangolomaniac" is my latest jester pin up, and she is just beautiful! She's dressed in a somewhat royal-feeling blue and gold suit, with yellow-green eyes to match the mangoes in the picture...Mangoes are my favorite fruit, and aside from chocolate, my favorite food! Like a little piece of heaven...I know it's dorky, but...I am a bit obsessed with them, hence the title of this piece! She is not yet listed on my website or in my etsy shop, though I will have prints of her available shortly. In the meantime, if you would like a limited edition art print of her (8" x 10" $16.00, free shipping) please feel free to
email me
and I will get one to you!
and here she is: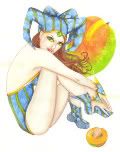 So, that's all for art tonight :) I know I have not been all that entertaining lately, I have been seriously hibernating and thinking up new awesomeness to bring out of my head...I went to take a short nap today (something I very rarely do, but it was raining and grey) and instead of resting, my mind came up with a bunch of ideas that I am pretty psyched about...So, I will be staying up late to A) watch wrestling and B) get some of these new ideas written and sketched out in my book...:D And...off I go!
xo!
Em
Visit my website- tons of images available as art prints and posters:
darklingtreasures.com
Join me on Facebook:
http://artist.to/darklingtreasures