Ah, I have been such a slacker with my blog lately. Please accept my apologies, and know that I am still creating, even if i am not posting a lot :)
Anyway, enough blabber. I have a few new pieces to share tonight, along with some 99 cent ACEO auctions, and a nifty zombie binder...
So, first, the new art! I have been working on and off on this piece for over a week now...It's taken me virtually forever to get her done! I'm not used to taking so long on one piece, but I think she came out splendidly...
"Psychopomps" is an original 5" x 7" illustration, in acrylic paints and inks, featuring a lovely angel winged fairy and a bunch of sparrows. The title is a greek word meaning "soul guide", and sparrows happen to be one of the specific animals that help guide peoples' souls from one plane of existence to another...
She is listed for purchase in my
darklingemily
etsy shop, $32 plus shipping...Here is the link if you would like to view more of her, and perhaps even adopt her into your home: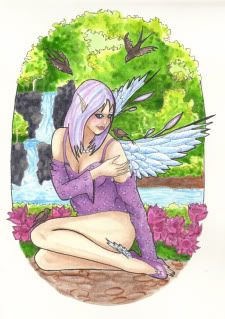 "Psychopomps" original fairy + bird illustration
Now, new ACEO time! Yay! I've listed my latest Circus & Side Show art on eBay- "The Magician" is an original 2.5" x 3.5" illustration- a magician in a top hat is showing off his card tricks! Lots of detail in this tiny piece, and in the color scheme of red, yellow, blue, black, and brown, as all of my other Circus & Side Show ACEOs have been. He is listed for auction with a starting bid of only $5! To see more, just check out the link below his picture: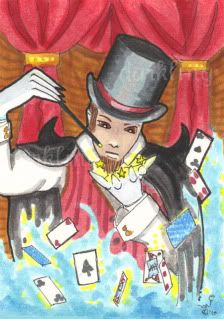 "The Magician" original Circus & Side Show fantasy ACEO
I also have a new fantasy ACEO listed on eBay- "Starflower Thicket" is an original illustration, with a tiny "white rabbit fairy" and a beautiful dark-haired nymph. To see the auction listing, view more pictures, and read the short blurb I wrote for this piece, just visit the link below the picture: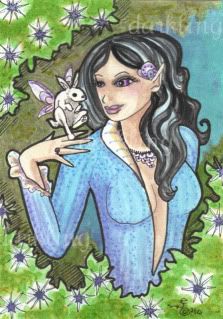 "Starflower Thicket" original fantasy ACEO art
There is at least one mermaid ACEO ending soon, too, and a whole bunch of 99 cent ACEO Print listings up, of course!! To see ALL my art auctions on one page, just click the link under the picture: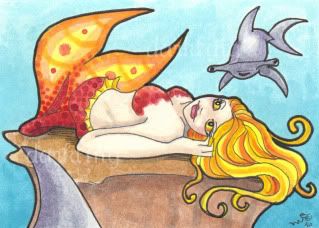 ALL Emily's art auctions on eBay!
What else...Oh, yes! A new product from me, through my Zazzle shop! BINDERS!! YaY! As it is nearly time for school again, I thought I'd better hop on the binder band wagon and get some made up! I have a few options to choose from- two different zombie binders, and a dragon binder! As time flows, I will have a few more listed...To see all my new binders, just click on the link below the picture:
Lots of nifty binders for school, office, organization, etc
And a reminder, as it is almost August 15th...and on the 15th, I will be holding my 15% off all orders sale, in my
darklingemily
etsy shop! As usual, if you purchase anything on the 15th, please wait for me to invoice you with the 15% off discount...I only do it this way, because it saves me the trouble of having to change all my prices for one day...I may extend this sale to my
zombietoes
shop as well, and I will be sure to let you all know!
As for projects, I am in the mode of getting my zombie compilation book formatted- there are a few final touches on illustrations that need to be completed, but...hopefully I will have this baby ready to rock out before Halloween! The original deadline (yes, I do set deadlines for myself LOL!) was end of August; however, I have been at work (at my "real" job) A LOT and haven't had all the time I thought I would...But, such is life. :) I am also working on a new series of ACEOs, which may not be released until my Circus & Side Show series is complete (which may actually be the end of this month)...But, this new series is based off of one of my recent ACEOs, "Too Tired to Fly"...Here is a pic of her: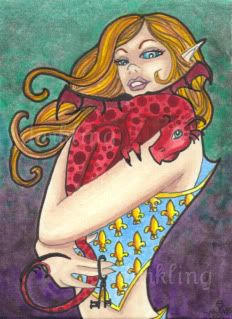 Each ACEO in the new series will have a beautiful woman and a dragon. I have them all sketched out in pencil, waiting for ink and paint :) But, first I must complete my other series LOL!! Not to mention my jester series (which is ongoing) and my poor, neglected dragon zodiac series...:( So...I suppose I better get back to the grind!
xo!
Em
Visit my website- tons of images available as art prints and posters:
darklingtreasures.com
Loads of fun stuff- T shirts, stickers, mugs, stationery, bags, buttons, and more in my
Zazzle Shop
!