helloz...
Today was a gorgeous day. So nice after a week+ of rain and gloom. I spent all day thoroughly sorting through my studio...spring cleaning and all. I donated a LOT of art supplies. I have some more that I am thinking about destashing, but...I keep saying I'm gonna do it and then never do. Hmmm. At any rate, I have some new art!
"Rabbit Ears" is my new baby!! I love this piece, I love the colors, I love the bunnies, I love the message...Yay! *ahem* Okay...This is an original acrylic painting (8" x 10" on canvas panel), featuring a beautiful pin up bunny girl, and a white rabbit on TV. You can learn more about "Rabbit Ears" - details, thoughts, purchase and shipping info- at the link below the picture:
"Rabbit Ears" original sci-fi pin up painting
There is a companion piece to this painting- another, smaller painting (5" x 7" on canvas panel) featuring a sheepish, and slightly overtired blue bunny with an antennae hat...He is listed separately at the link below the picture: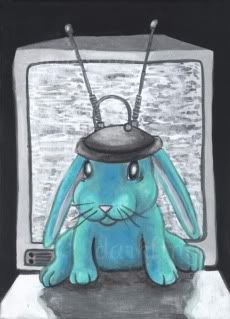 "Rabbit Ears Addendum" original bunny sci-fi painting
Both of these new paintings are included in my 25% sale when you sue the code RAFFLE at checkout...until May 31!
Speaking of my Sale/Raffle, the entries are stacking up! Here's my remider blurb-
ALL purchases made through either of my etsy shops, through auction on eBay, and through my
official website
will enter you into a raffle to win your very own custom illustration!
For my etsy shops- ALL items are 25% off when you use the code RAFFLE at checkout. This code is good for both my
darklingemily
etsy shop as well as my
zombietoes
etsy shop!
Because my prices are already ridiculously low on eBay, I am not holding any sales over there, but those purchases still enter you into the raffle!- you can see all the auctions
HERE
!
This sale runs through May 31st, and I will be announcing the winner of the raffle on June 1st on my
Facebook Fan Page
!
So...in the fashion of spring cleaning, I have listed a few ORIGINAL paintings up on eBay for very low starting bids :) There are two dragon paintings up at the moment ("Monarch" and "Dragon and Raven"), along with my "Semi-Sweet" jester pin up illustration, and my "Departure" nautical illustration. You can see them individually at the links below, or all on one page by clicking
HERE
!
"Monarch" original dragon + butterflies painting auction
"Dragon + Raven" original dragon + raven fantasy painting auction
"Semi-Sweet" original jester pin up fantasy illustration
"Departure" original woman + ship Nautical illustration
Perhaps you are not in the market for an original...well, I have a whole bunch of 99 cent ACEO prints up for auction as well! Something for everyone ;)
Aside from my shameless self promotion, I've gotten a bunch of new ACEO illustrations half finished, and a few new paintings in various stages of creation...most are still just sketches, but I am psyched to get them onto canvas...My art seems to get just a little bit weirder every day...
xo!
Em
Visit my website- tons of images available as art prints and posters:
darklingtreasures.com
Loads of fun stuff- T shirts, stickers, mugs, stationery, bags, buttons, and more in my
Zazzle Shop
!