Good evening!
So, I do have a few new pieces up for auction- two jester pin up ACEO prints, a print of my ACEO "Over the Rainbow", and a new original! But, I kind of feel like rambling, so this blog post will mostly be me fulfilling *that* whim ;)
Okay, before I go off on a tangent, I'll let you all know about my latest auctions! I have a brand new original ACEO illustration listed- "Fancy Feathers" features a little girl fairy and her pet peacock- super cute! She is up four auction with a starting bid of $5...To see the listing page, and perhaps even make a bid, just follow the link below her picture: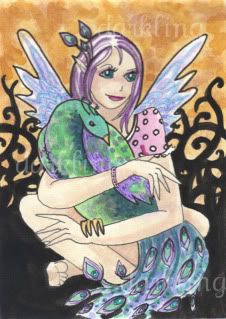 "Fancy Feathers" original fairy + peacock ACEO illustration
Also newly listed are a few ACEO prints with 99 cent starting bids- two of my jester pin ups (Mangolomaniac and Sucker)...You can see the individual listings at the links below their pictures: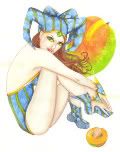 "Mangolomaniac" jester pin up ACEO print
"Sucker" jester pin up ACEO print
And one last one- an ACEO print of my original nude illustration "Over the Rainbow"- a pretty naked lady, sitting on a cloud, under an umbrella...I just love this piece! She is also listed at a 99 cent starting bid, and you can see more and make a bid at the link below her picture:
"Over the Rainbow" nude fantasy ACEO print
So...I'm gonna ramble about my week now. You've been fairly warned ;)
on Tuesday, I had to go into work in the early morning...When I got there, I noticed a baby bird hopping around in the road. So, I scooped it up and moved it to safety. I know you are not technically supposed to touch wild baby animals, because I guess the scent of human on them is sometimes enough to make the parents abandon them...But I was *not* going to leave that poor little guy out in harms way. It wasn't hurt, and was certainly about "learning to fly" age. Plus, one of the parent birds was right there, screaming at me the whole time. When I went on break later in the day, the baby and parent were gone, so...I assumed the best (for once)...Plus, I got to hold a baby bird before work! They are sooo cute :)
This morning, I found myself downtown before work, so I ran a few errands, grabbed a cup of coffee, and headed to the cemetery to visit with my namesake (Ms. Emily Dickinson). Some of the grass in the front of the graveyard hadn't been mowed in quite some time, and it was long and brown (but not in a gross way). In that part of the cemetery, the tombstones are very old, many are cracked and crooked. It was so quintessential, and I was silently cursing myself for not having my camera with me. So, I had a nice peacefully creepy morning, writing zombie limericks with Ms Dickinson in the graveyard.
It's strange, though, that a town as busy as Amherst has a "dead spot" (pun intended) right in the center of the center...I don't go to cemeteries and hang out because its cool and slightly gothy...I might be a dork, but I am not a big enough dork to be a goth (sorry goths). I'm just me. I just like that it is peaceful, but not all that lonely. I like that there is history and secrets, and lives past. Plus, even those dead and gone, for so long that there is no one left alive to visit them, still deserve a visitor now and then.
And...that's my ramble.
xo!
Em
Visit my website- tons of images available as art prints and posters:
darklingtreasures.com
Loads of fun stuff- T shirts, stickers, mugs, stationery, bags, buttons, and more in my
Zazzle Shop
!