Happy Fourth of July!
I'm gonna make this a quick post, cuz I have a lot of art work waiting for me! But tonight I have some new auctions!
The very first auction is a brand new ACEO, and the first in my series of circus/shideshow themed illustrations! "Sword Swallower" is an ORIGINAL 2.5" x 3.5" illustration, done in archival inks and acrylic paints on bristol. She is up for auction on eBay, with a starting bid of only 99 cents! To see more detail pictures, read more info about this piece, and even make a bid, just visit the link below her picture: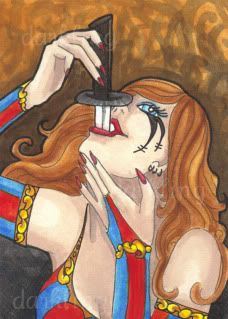 "Sword Swallower" original ACEO circus illustration
The other two auctions I have recently listed are both older pieces, in need of good homes :) "Green Eyes" is a one of a kind fairy ACEO, in mixed media (fabric, assorted papers, ink, and paint)- up for auction on eBay, also with a starting bid of just 99cents. To see the listing and more details, check out the link belwo the picture: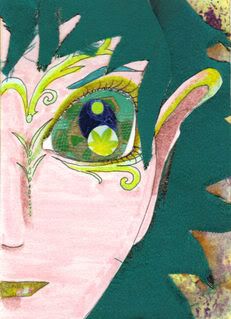 "Green Eyes" original fairy collage ACEO
And, last but not least, I have also put up one of my smaller original acrylic paintings- "Red Wine Fairy" is 5" x 7", and she is adorable, with her big blue eyes and pale skin. She is listed for auction, starting at $15...To see her auction listing, follow the link below her picture: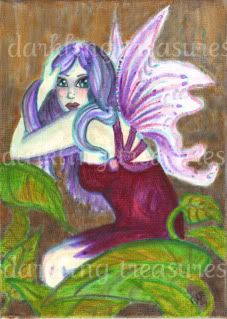 "Red Wine Fairy" original big eye fairy painting
Of course, there are a few art auctions ending soon (within the next day or so) and most of them have not reached over $5 yet! To see all my auctions on one page, just click
here
!
ALso new- the good folks over at
MyTagArt
have put up some brand new tubes for all of you who like to make digital signature tags and the like...TO see all my new PSP tubes, they are
here
(newest additions are at the bottom of the page).
So, I know I haven't been very "talkative" online lately- I have been working nonstop! I am currently balancing a few projects (as usual!), including my latest jester, this circus ACEO series, getting things sorted, edited, and formatted for my zombie compilation book, and other odds and ends. And with that said, I'd better get back to my desk and get some colors filled in!
xo!
Em
Visit my website- tons of images available as art prints and posters:
darklingtreasures.com
Loads of fun stuff- T shirts, stickers, mugs, stationery, bags, buttons, and more in my
Zazzle Shop
!