whoopsies!
I went a little longer than planned between posts here, I hope you can forgive me! So, I do not have a *ton* of art to share tonight...A new Circus & Side Show ACEO, an older dragon piece up for auction, and a brand new painting, which I am in love with...

I have to start with the new painting, because I am excited and don't want to wait LOL! This is the first piece in a new series! The new series is essentially inspired by the simple joys in life, like stupid toys (kazoos, pinwheels...) and fun stuff like hats and balloons. It would be more helpful if I had a name for this series, but it has not come to me yet (open for suggestions? sure)...I just know winter is right around the corner, and got an attack of "OMG, everything's going to be white and grey for the next six months" anxiety, and started plotting out images in color color color! But...enough blabbering, let me show you the first piece in the series- "The Hat"! She is an ORIGINAL acrylic painting, measuring 7" x 14" (long and thin) on a piece of particle board...I know, it's not the most professional base I have used, however I have a ton of them and wanted to try painting on one. I get them from work, when I have to cut up the 50 lb. blocks of cheddar cheese. Anyway..."The Hat" is available for purchase in my darklingemily etsy shop, at the link below the picture: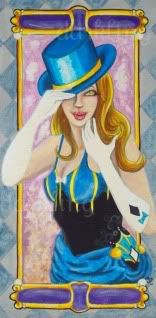 "The Hat" original fantasy painting

In addition to the original painting, I have also put up posters of this painting in my zazzle shop at the link below- you can choose your size, paper/canvas type, and even get a custom frame if you like!
"The Hat" posters on Zazzle

Now, the newest Circus & Side Show ACEO! This one is "Siamese Twins"! I know, it took me forever to get to this one! Two pretty brunette sisters, literally joined at the hip (I think)...This original 2.5" x 3.5" illustration is up for auction on eBay, with a $5 starting bid...check out the link below the picture: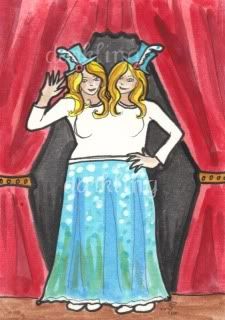 "Siamese Twins" original Circus and Side Show art

I also have a *special* auction running right now...well, it is only special because I have listed it at such a low price, as I am in dire need of some wall space in my studio..."Lurking Dawn" is up for auction, with a starting bid of only $25! This is an ORIGINAL acrylic painting, on gallery wrapped canvas (12" x 16"), featuring the black silhouette of a dragon, wings stretched upwards, perched on some strange, otherworldly foliage. I would absolutely be thrilled if any of you would like to add this painting to your collection, and help me get a little wall space to work with! To see the eBay listing, just click on the link below the picture:



"Lurking Dawn" original dragon silhouette fantasy art

So, that is about all for now. I am trying to get the rest of the writings for my circus and side show series finished by next week, so that I can edit them down (which I am sure they will need badly) and then I can start on the next phase...hee hee hee! Oh, yes, and before I got...commissions are open, if anyone should be interested in having me create a person piece! The holidays are creeping up on us, you know...Also, I just need you to know that I felt a little bit dirty saying that, so don't hate me for reminding you ;)
xo!
Em
Visit my website- tons of images available as art prints and posters: darklingtreasures.com
Loads of fun stuff- T shirts, stickers, mugs, stationery, bags, buttons, and more in my Zazzle Shop!