Greetings all!
Well, I have a brand new painting (okay, it's a few days old) to share with you, and a whole slew of eBay art auctions, as well! Seeing as this post won't be too full of art, though, I will probably ramble for a bit, like the crazy girl that I am...
First, though, allow me to introduce to you my latest painting- "Forest in the Sky" is a very colorful fantasy piece, featuring a little dark haired nymphette, a little bird, and some floating trees! This is a long and thin painting ( 7" x 14"), and it is available through my
darklingemily etsy shop
at the link below the picture: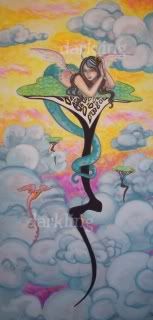 "Forest in the Sky" original fantasy art painting
Now...I have a *whole bunch* of art listed on eBay this week- a lot of 99 cent ACEO prints, and a few original ACEOs, too! Dragons, fairies, mermaids...lots and lots of goodness! To see everything that is currently up for auction, just check out the link below the picture: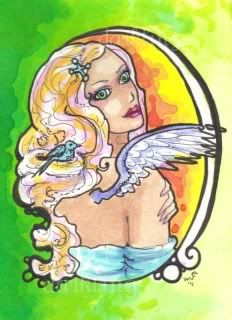 Emily's art on eBay!
Oh, yeah! If you want to see the work in progress photos of the latest painting I am working on- it is part of my "Little Things" series- just check out the album on my Facebook page
HERE
!
And speaking of Facebook page, may I remind you that I have an exclusive art auction running over there right now- it is for a set of two original, one of a kind mermaid ACEOs- and these are my collage style! To see pictures of the mermaids, and perhaps make a bid, just click on the link below the picture: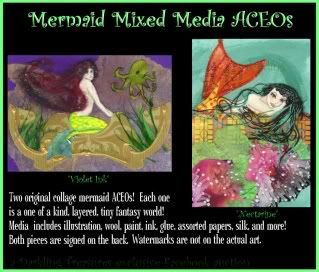 Facebook exclusive auction- two mermaid collage ACEOs!
Hurry, though, this auction ends Monday night (January 31st, at 11PM EST)...
So...It is that time of year again! February marks the three year anniversary of opening my
darklingemily etsy shop
, so of course we need to celebrate! Starting on February 1, all the way through the month, I will be offering a percentage discount on everything in my shop!! I have not decided on the exact amount yet, but as soon as I do I will let you all know! Just wanted to give you all a few days heads up ;) Cuz I loves ya...
RAMBLE! I am in the beginning stages of putting the very first
Circus & Side Show
book together- for now, it will just be a hand made version. Hopefully I will find some time very soon to get it formatted for a real book version...we will see (as always LOL)! Also, making a little progress here and there on my "Problems" series, which I am in love with (which makes me feel like a big narcissist, but, hey...I'm not. I just dabble). Very soon I will have them up online, with lots of explanations and such. I know, I am such a tease. I swear, though, soon! I want to paint more ravens, and more zombies, too! I need more hands, or a clone I can send to work, or...something! ahhh! LOL!
xo!
Em
Visit my website- tons of images available as art prints and posters:
darklingtreasures.com
Loads of fun stuff- T shirts, stickers, mugs, stationery, bags, buttons, and more in my
Zazzle Shop
!