December!
Well, I have two new Circus & Side Show pieces to share, and a brand new calendar, too! I've been working on commissions and catch up stuff this week, so I don't have a *lot* of new stuff today, but...I still got a little ;)
First, the ACEOs! The first is "Fortune Teller"- I *love* how she turned out, and almost kept her for myself...and I may still, if she does not get any bids! Right now, the original ACEO of "Fortune Teller" is listed for auction on eBay, with a starting bid of just $5! To see the listing and perhaps make a bid, just check out the link below her picture:
"Fortune Teller" original Circus & Side Show ACEO art
And the other new Circus ACEO is "Knife Thrower"- also up for auction on eBay, starting at just $5! The link to the auction is below the picture: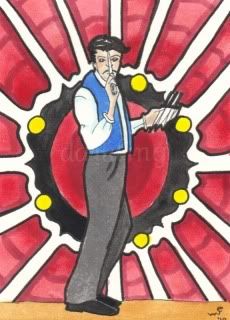 "Knife Thrower" original Circus & Side Show ACEO art
Of course, I have other auctions running now, too- if you would like to see them all in one place, just click
HERE
!
Now, I have a whole BUNCH of new fun stuff up in my
zazzle shop
, and they are running some seriously awesome sales lately...you should check it out! I have ordered a few presents from them, and have gotten printed materials from them in the past, and I cannot say enough good stuff about the quality of their items and the fast shipping!
Aside from the iPad and iPhone cases, cards, t shirts, stickers, etc, I now have a Jester Pin Up fantasy art calendar available for 2011! You can see previews of all the pages and both covers and get yourself or someone else a copy, at the link below the picture:
2011 Jester Pin Up fantasy art Calendar
And...Emily Grinch has made an appearance on some holiday greeting cards! They are also available through my zazzle shop: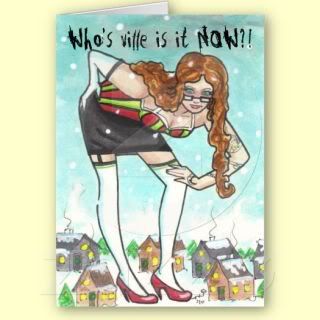 Emily Grinch holiday greeting cards
For Wed, Dec 1 only- use the code JINGLESALE46 at checkout and get 75% off all cards!
So...yeah. I dunno. I've been busy. I'm tired and I effed up my shoulder something awful. But, I did get a lot of catching up done, and all, or most, of my recent commission works are all completed and ready to go to their new homes, so I am feeling pretty good about that. Wow...my life is so exciting. Hahahahaha! I thin I'm gonna go to bed.
xo!
Em
Visit my website- tons of images available as art prints and posters:
darklingtreasures.com
Loads of fun stuff- T shirts, stickers, mugs, stationery, bags, buttons, and more in my
Zazzle Shop
!