Hi hi!
Well, I have been playing catch up in the studio this week; got some new pieces to share! A brand new Dragon Square (#5!), a slightly sad nautical illustration, some new ACEOs...plus I am in the mood to ramble, so...yay!
Firstly, I am very proud to introduce to you all the latest Dragon Square painting- #5! This original 5" x 5" sqaure fantasy painting features a lone robot/spaceship/satellite dragon flying through outer space! I am so happy that I've managed to make it look like what I wanted it to! Let's all cheer for sci-fi...yay! For some reason, I have always had this strange obsession with dragons AND outer space; the one tattoo I have is of a space dragon :). At any rate, the original "Dragon Square #5" painting is available for viewing and purchase through my
darklingemily etsy shop
at the link below the picture:
"Dragon Square #5" original sci-fi painting
Okay...This next piece is something a little different from me...it is a rather romantic nautical illustration ..."Departure" is essentially a story piece; I only call it that because it makes me ask a million questions. Who is this woman, what does that letter say? Why is she crying? All those questions eventually lead to me making up a back story in my head. I hope she maybe does the same for you! "Departure" is an ORIGINAL 8" x 10" illustration, created in acrylic paints, prismacolor pencils, and archival inks on bristol. She is up for auction on eBay (starting bid of $14.99)- to see all the auction and art details, please visit the link below her picture: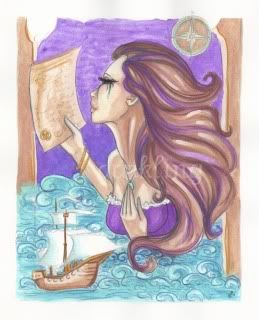 "Departure" original nautical fantasy illustration
I also have some ACEOs up for auction on eBay- prints as well as originals- you can see them all
HERE
! There is one I will pick out of that handful to share today- my latest original ACEO "Firelight". This little 2.5" x 3.5" illustration of a fairy and a tiny dragon enjoying some glowing fire bubbles is up for a $5 starting bid! Again with the blue/aqua/yellow, I know! I love it though...To see the listing page with all the details about the art, please visit the link below the picture: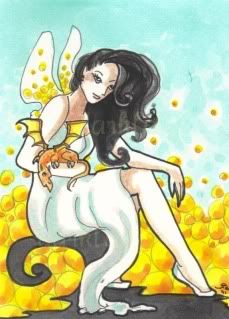 "Firelight" original fantasy ACEO illustration
So...I think it's ramblin' time! Lately I have been feeling...strange. A little lost. A little confused. Certainly feeling as prolific as ever, but hesitant to "just create". I am not feeling too serious, but I am feeling like there needs to be more purpose behind what I do. I also feel like I need to reign in my style a little bit more. I think my brain needs a vacation from itself. I think I think too much! LOL! Anyhoo...off to do things and stuff. Love!
xo!
Em
Visit my website- tons of images available as art prints and posters:
darklingtreasures.com
Loads of fun stuff- T shirts, stickers, mugs, stationery, bags, buttons, and more in my
Zazzle Shop
!