Happy weekend to you all!
I have three new pieces of art to share today- a brand new Dragon Square painting, a spring-time nymph with a dragon, and a sweet little 'portrait of an herb' ACEO...Plus, some new stickers through my
Zazzle shop
!
This latest Dragon Square is #6 in the series- he is a pirate dragon! He's got sails for wings, an eye patch, and even some buried (well, previously buried) treasure! This original painting is 5" x 5" on a wooden plaque- to see the listing for this painting, please visit the link below the picture: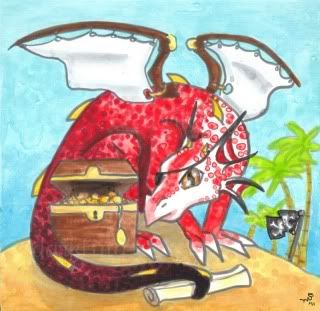 "Dragon Square #6 pirate flavored dragon painting
Of course I have some new, original ACEOs to share as well! There are two of them this round, the first being "Sage"- it seems as though I have inadvertently begun yet another series...portraits of herbs and spices! "Sage" is the latest, and she is very pretty! This original 3.5" x 2.5" ACEO illustration is up for auction on eBay, with a starting bid of just $5. To see all the details, more pictures, and perhaps make a bid, please visit the link below her picture:
"Sage" original herb fantasy portrait art
The other new ACEO is "Spring Bath", and features a lavender-skinned nymph and a little purple dragon perched on a birdbath, in the midst of a blooming garden. The colors are very bright, almost candy-like (yum!)...This original ACEO is also up for auction on eBay, ($5 starting bid for this piece as well), and you can see all the info and details at the link below the picture: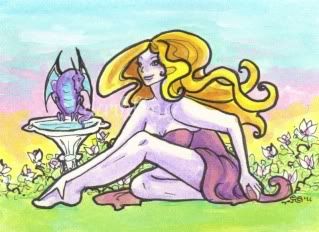 "Spring Bath" original nymph + dragon fantasy ACEO
Now...stickers! Man, do I ever love them. :D I've got some new ones up in my
Zazzle Shop
- they now have different shapes- stars, hearts, oval, etc! YAY! So, to view my random assortment of stickers, check out the link below the picture:

Em's art stickers on Zazzle!
In the next few days, keep a lookout for the latest zodiac dragon (Taurus)! Hopefully soon I will also be announcing a new licensed product! And other new art as well. Have fun, stay safe!
xo!
Em
Visit my website- tons of images available as art prints and posters:
darklingtreasures.com
Loads of fun stuff- T shirts, stickers, mugs, stationery, bags, buttons, and more in my
Zazzle Shop
!