Oh, another week gone by with only one blog post! What is WRONG with me!?! I'm sooo sorry. Been working like it's going out of style.
So, amazingly, I do have some new art to share tonight! Not a lot, but...enough to get you through, I hope ;)
Two new, original ACEOs! One from my Circus & Side Show series- "Acrobats"- two small performers hang from hoops, high above the ground...I cannot see if there is a net below them or not...This original ACEO (Art Cards, Editions, and Originals- 2.5" x 3.5") is up for auction on eBay, with a starting bid of only $5! To see the listing, with more pictures, info, and to bid, just check out the link below the picture: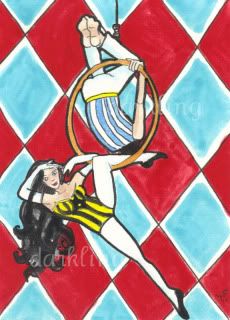 "Acrobats" original Circus & Side Show ACEO art
And, the other..."Plum Tuckered" is an original fantasy ACEO, featuring a blond girl (nymph) and a plum flavored dragon, under big, bright stars...This is an original illustration (2.5" x 3.5"), and part of an ongoing series of ACEOs featuring beauties and their personal dragons...She is up for auction on eBay, with a starting bid of just $5...To see more, and perhaps make a bid, just click the link below the picture: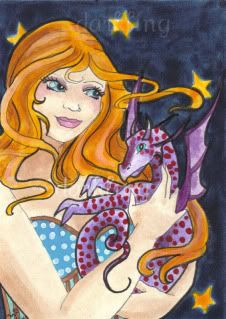 "Plum Tuckered" original dragon + nymph fantasy ACEO art
And, as always, I have a handful of ACEO Prints up for auction, all with starting bids of just 99 cents! Currently, there are a few jesters up, and more random images throughout the week...You can see ALL of my auctions on one page
HERE
!
And speaking of jesters, I have a brand new Facebook exclusive art auction up! This is an auction for the ORIGINAL illustration of my "Cupcakery" jester pin up artwork! Bidding on this piece starts at $0 (YEAH!) and you can see a bunch more info and details, and also place your bids, at the link below the picture:

Cupcakery original jester pin up art auction!
I am still working on my Red Velvet Cake pin up jester. She is nearly complete, and I may just finish her up tonight after I get all my computer work done...Though, I do have a few new work in progress pictures up in my Facebook album
HERE
if you are curious ;) She's very pretty! And I think the next jester will be a candy apple themed piece...I just absolutely love apples. Delish.
n other news, I've been having numerous creative epiphanies...It's all I can do to get them written down until I have the time to sort through them, edit, decide whether or not they are worthy of my time, and get them moving...A lot of them are rather involved projects, and since I am already working on one of those, the others will have to just live in my journals until I can get to them. Such is the paradox of being an artist...When you have the time, often the ideas are fleeting. When you have no time, they tumble down on you like there are a bunch of angry squirrels shaking the acorns out of the trees.
This is why I wrote everything down now ;) So, even if there is not any perceptible inspiration, I still have plenty of ideas... Here are a few things that are brewing in my brain:
- stationery sets
- hardcover journals and day planners featuring my art
- another FB giveaway
- a vehicle for my circus & side show series...short stories? I dunno...
So, yes, though I have been quiet online lately, I am still my crazy self, cooking up silly ideas, and tossing them in the air to see if they can fly or not...What, oh what, will come next?
Oh, and before I bid you all a good night, I want to remind you that on Wednesday (September 15th), I will be having my 15% off all orders sale in my etsy shops! Yes, both of my shops will be 15% off EVERYTHING on the 15th! Yay! Nothing will be visibly marked down, so if you place an order on Wednesday, please do wait for me to invoice you with the discount price!! And, now, I am off to other things...Much love.
xo!
Em
Visit my website- tons of images available as art prints and posters:
darklingtreasures.com
Loads of fun stuff- T shirts, stickers, mugs, stationery, bags, buttons, and more in my
Zazzle Shop
!