Just a quick post tonight, I am totally pooped out from gardening all day...and thinking about how much more I still have to do...I could seriously fall asleep right here at my keyboard.
So...let me get right to it, then :) I've got my brand new "Monarch" dragon to share- he's also available in t shirt form from my
zazzle shop
! And a newly listed collage ACEO- she's an older piece, but the first time I have ever listed her :) Also, a link to a tutorial for creating tags and such from my friend Jenny via MyTagArt :)
Very first- "Monarch" is my latest dragon, and he's got two butterfly buddies with him! This is an original 10" x 8" painting, done in acrylics on a canvas panel. You can read/see more details, and perhaps even invite him into your home at the link below the picture: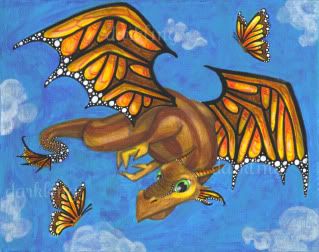 "Monarch" dragon original fantasy painting
"Monarch" is also available on long and short sleeve t shirts and hoodies in my Zazzle shop- you can choose your own shirt style, size, and color- there are also kids and infant sizes! Check it out at the link below the picture: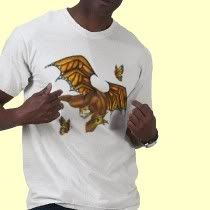 "Monarch" dragon custom shirts
The latest eBay auction I've got going on right now is an older collage piece- "Carry It Always" is an original mixed media ACEO (2.5" x 3.5"). It features a fairy nymph, with lots of colorful hair, and big green eyes...She's very pretty, and will surely bring a touch of magic to your home! This piece starts at jsut 99 cents, with free shipping. too! To see more info and details, please visit the listing at the link below her picture: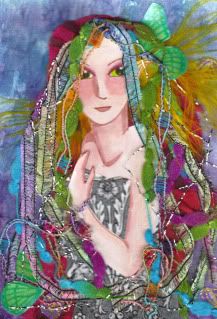 "Carry It Always" original fairy mixed media ACEO auction
Was hoping I would get a second wind by now, but it's just not happening. But, one last thing before I go to bed- my friend Jenny has written a digital tag tutorial...She even made me my very own tag, featuring my Hot Cocoa jester! I just love it, thank you Jenny! There is a lot of useful info there, so please check out her blog at the link below:
Through OUr Dreamz"- Jenny's blog tutorial
Here's the tag she made for me!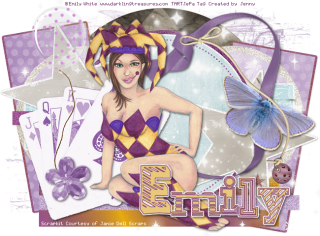 So...now I am going to bed! Night all!
xo!
Em
Visit my website- tons of images available as art prints and posters:
darklingtreasures.com
Join me on Facebook:
http://artist.to/darklingtreasures