Oh you guys...
Apart from my current "climbing-out-of-a-rut" state, I have some new art to share...A brand new jester pin up, a little fairy ACEO painting, and another older collage piece, too!
First, the newest jester(ess)! I have a weak spot for all kinds of sorbet, raspberry in particular, so I thought I'd give a shout out to one of my favorite desserts with a pin up :) The title for this one is simply "Raspberry Sorbet" as I have not been feeling all that clever or witty of late...But at least it brings Prince's song to mind. She is a beautiful blond jester, sensually spooning a frozen scoop of raspberry sorbet into her mouth. She's even got a raspberry tattoo! This piece is available as 8" x 10" limited edition prints through my
darklingemily
etsy shop- just visit the link below her picture to see more details and such: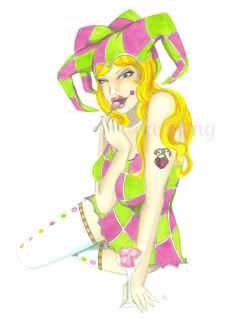 "Raspberry Sorbet" jester pin up art print
Also brand new- "Spring Butterflies"- and ACEO original painting! This little 2.5" x 3.5" artwork is up for auction on eBay, starting at just 99 cents (with free shipping)! To see more detailed pictures of this little fairy and her butterflies, read her blurb, and even make a bid, please visit the link below her picture: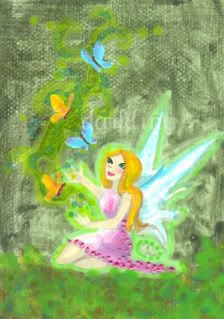 "Spring Butterflies" original fantasy ACEO painting
And one last piece for today- this one is an older mixed media collage. "A Small Seat" features a pretty, wide eyed fairy resting on a toadstool after hours of flying around. This piece is a 5" x 7" collage, with lots of different media- feathers, paints, inks, thread, sparklie things...These mixed media pieces look lovely framed- like little windows into magical lands. She is up for auction on eBay, with a 99 cent starting bid (free shipping, too)! To see the listing, details, and make a bid, please visit the link below the picture: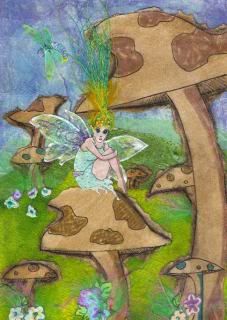 "A Small Seat" fairy mixed media art
Of course there is a handful of my other art up for auction on eBay, so if you would like to see everything in one place, just click
here
! As far as I know, everything is still inder $5, many pieces have no bids yet, so you could get something for quite a steal!
For those of you who like to make digital tags and stuff, some of my art is now available as tubes for you to play with! Many thanks to MyTagart for allowing me the opportunity to join their wonderful selection of artists- to see what they have available as far as my art goes, please click
here
! :) There is also more on the way...

So, as aforementioned, I am working my way out of a bit of a funk. It is not so much an inspiration problem as a motivational one- something I am not very familiar with and prefer not to be- ever. The pictures pile up in my head and in my numerous sketch books, but I seem to be having trouble getting them generated into actual art. I am blaming the beautiful weather and my multitude of work to get done in the gardens...Lots of yardwork to do, good stuff, but tiring! But for now, I am off to motivate and get my latest dragon painting worked on a bit more- there are work in progress photos up in my album on Facebook
here
if you would like to come by and see :)
xo!
Em
Visit my website- tons of images available as art prints and posters:
darklingtreasures.com
Join me on Facebook:
http://artist.to/darklingtreasures