Hi All!
I know I have been "quiet" lately; kind of been soul searching and re-evaluating things lately. Not to worry, there's nothing wrong, I'm just trying to get emotionally organized...whatever that is heh heh heh! But...at least I'm *trying*...
Tonight, two new pieces- the latest zodiac dragon (original and the first edition print) and a new mermaid ACEO which some of you may have already seen ;)
This mermaid ACEO is a new, original mixed media art card (2.5" x 3.5"). "Blue Babe" is a 2010 creation, aka new, though I did make her last week and listed her a few days ago...She still has a few days left on the virtual auction block (aka eBay).. I did start the bidding at 99 cents, (with free shipping) but it has been bid up to $3 at last check (woo hoo, breakin' the bank on this one heh heh heh!) If you are interested in fighting to give this tiny, pouty mermaid a new home, I implore you to visit the link below her picture...There you can view more detailed pictures, read the short blurb I wrote for her (along with art work details) and make your bid: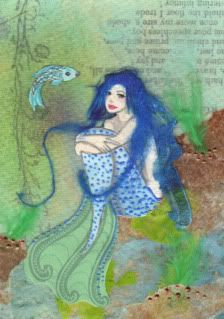 "Blue Babe" original mermaid fantasy ACEO auction
Now, for the newest zodiac dragon! "Scorpio Dragon" is the latest illustration in my astrological dragons series...I've given this dragon royal purple and maroon segmented armor (much like the scorpion next to the glyph for Scorpio)...Also featured in this piece is the ruling planet for this sign- Pluto...And I don't care what's what, I personally still consider Pluto to be a planet. Otherwise, it screws up the whole ruling planet issue. :P The original illustration is available in my
darklingemily
esty shop...To see the listing for the original piece, please visit the link below the picture: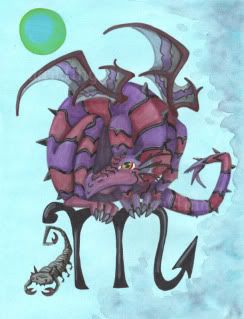 "Scropio Dragon" original astrology illustration
Also available is the #1/25 limited edition art print of "Scorpio Dragon". This art print is listed for auction on eBay, starting at just $9.99 (free shipping). If you would like to make a bid on this 8" x 10" print, please visit this link:
"Scorpio Dragon" limited edition #1/25 art print auction
Other than gardening and emotionally cleaning house, I am slowly working on a mermaid illustration...it's a little bit different than my usual stuff, but I thought it was a novel idea at the time...Since I *still* think it's pretty funny, I will share with you all that it is two mermaids mudwrestling. Seeing as I have very little experience with drawing action, this should turn out...interesting. I will try to do the idea justice. Thus, I will be taking my sweet, sweet time on this one. If it turns out poorly...I'll post it, but not for sale ;) At any rate, I am off to get some work done on that :) Have a good night!
xo!
Em
Visit my website- tons of images available as art prints and posters:
darklingtreasures.com
Join me on Facebook:
http://artist.to/darklingtreasures