Hello All!
Well, I have kind of a lot of stuff to share today, so please bare with me here :)...New Zazzle products, an ACEO auction, a brand new jester, and a new raven too!
I know I am not the best about sharing the latest from my Zazzle shop, but I have a few new things up there now, so I thought I'd post those! My "Ladybug Dragons" are now available as greeting cards; they are blank on the inside, but you can add your own greeting in any available font that Zazzle has before you order them! Here is the link to the greeting cards:
"Ladybug Dragon" and other greeting cards on Zazzle
I also have some new dragon, zombie, jester, and raven posters up there as well- you can choose your own size, paper, and even a frame if you wish! The link to all my available posters is here:
Emily's assorted posters and art prints on Zazzle
How about some brand new art? Yay! I will begin with what's new in my
darklingemily
etsy shop! Number one- a brand new jester pin up! She is titled "Cherry's Jubilee" (many thanks to my friend Megan for coming up with the title!)- Cherry is looking pretty shocked and happy about these oversized cherries right next to her...She is available as a limited edition 8" x 10" art print (there are only 25 in the edition) at the link below: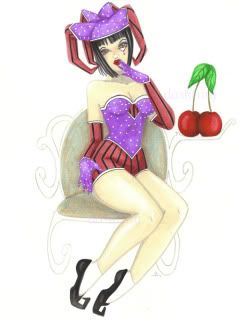 "Cherry's Jubilee" jester pin up art prints
I've also snuck in some time to get a new raven painted :) I just love these birds, and I could seriously paint them forever; if it weren't for my vast interest in other areas, I probably would! This is "Raven 17"- A curious raven looks skyward...and what are these glowing bits of green everywhere? "Raven 17" is an original acrylic painting, 5" x 7" on a sheet of canvas. He is available at the link below the picture: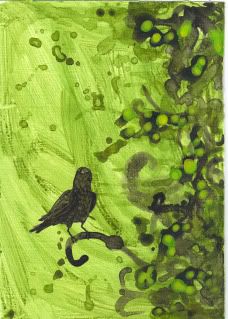 "Raven 17" original painting
See, I told you there was a lot of updates! And I've still got one more :D This last piece tonight is an ACEO, listed for auction on eBay, starting at just 99 cents!
"Cemetery Fairy" is an older mixed media ACEO (2.5" x 3.5", feathers, lace, papers, fabric...the works!). She is slightly gothic, as she lives in a cemetery...but she's not mean or evil. Just watching over souls. She is up for auction on eBay- you can read her story, see detail pictures, and make a bid at the link below her picture: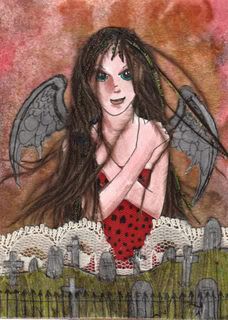 "Cemetery Fairy" mixed media ACEO auction
Okay, I'm off to get some work done (boring computer stuff, but I need to do it) so...peace!
xo!
Em
Visit my website- tons of images available as art prints and posters:
darklingtreasures.com
Join me on Facebook:
http://artist.to/darklingtreasures