Greetings all!
Let me see...I've got the latest zodiac dragon to share today, along with two new mermaids! I've been in a bit of a mermaid mood lately, if you couldn't tell! :)
First, though, allow me to unveil the "Gemini Dragon" illustration! A two headed, double winged, dual colored dragon, with big purple eyes! I'm very pleased with how this particular beast turned out- it was a bit of a challenge to put two heads on one body! A very special friend was the inspiration for the purple eyes- gothic and fantasy artisan Natalie VonRaven (who happens to be a Gemini herself)! You can check out her fabulous works through her Facebook page here:
Natalie VonRaven *Magisterian*
The original "Gemini Dragon" illustration is available for purchase, or just a peek, through my
darklingemily
etsy shop...To see/read more details, please visit the link below the picture: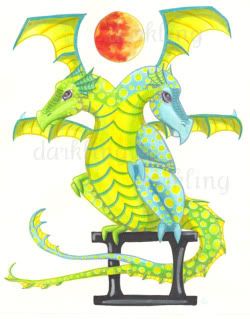 "Gemini Dragon" original fantasy zodiac illustration
Also newly listed in my
darklingemily
etsy shop is an original 5" x 7" mermaid illustration titled "Freshwater Mermaid". This piece was inspired by the small pond behind my studio. I realized that the vast majority of my mermaid art is ocean based, and wanted to create a mermaid that could potentially be found in the middle of the forest! "Freshwater Mermaid" is available for purchase at the link below her picture: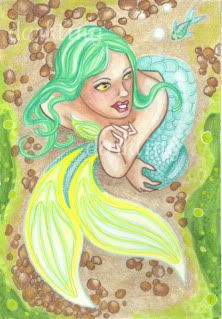 "Freshwater Mermaid" original fantasy illustration
One more wee mermaid piece- This one is titled "Daydreaming Mermaid", and she is an original ACEO illustration. Slightly cooler colors in this one, and her long lashed eyes are closed, as she is really envisioning something marvelous :) She is listed for auction on eBay, with a starting bid of just 99 cents! To see more pictures, read the details of the art, and even make a bid, just follow the link below the picture: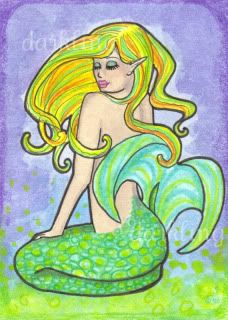 "Daydreaming Mermaid" original fantasy ACEO
I do have one important new development to share, and it is about shipping costs. So, if you are a buyer, or are considering buying a piece, please read the note at this link, which is an overview of my new shipping info:
Important shipping information
Okay, time for a little bit more art and then bed! I have a rather long rest of the week, so I have to get my beauty sleep tonight!
xo!
Em
Visit my website- tons of images available as art prints and posters:
darklingtreasures.com
Join me on Facebook:
http://artist.to/darklingtreasures