Hi Hi!
Well, I have quite a bit to update today- new art up on the website, a link to my art giveaway, and new art! ArtArtArt! Hee hee!
First, I have updated my website galleries with new images! There are four sub-galleries on my website: fantasy art, sexy art, scary art, and miscellaneous art. Each of these has brand new images posted! Here are the individual links to the sub galleries- pick your poison ;)
To the Fantasy Art Gallery
To the Sexy Art Gallery
To the Scary Art Gallery
To the Miscellaneous Art Gallery
Once you are in the gallery of your choosing, you can click on the individual thumbnail images to view details about the piece, the story behind it, and close up pictures. There is also the option to purchase a art prints and/or posters. All of the most recent updates are at the top of the page, and are marked "NEW".
Next...A link to my first ever Custom Art Giveaway! This giveaway is exclusive to my Facebook Fan Page, so if you are not a fan and would like to partake in the drawing for an original custom painting based on your idea, you will need to become a fan ;) There are actually three custom pieces in this drawing- one 5" x 7" original, and two ACEO sized (2.5" x 3.5") originals, all custom! More details and your chance to enter can be found here:
Enter to Win a Custom Darkling Painting!
You may enter once a day- the contest closes on Wednesday (3/17) at midnight. Names will be drawn Thursday morning.
Now, for some new art! I've got two new auctions up today- one ACEO and one 8" x 10"- the ACEO is brand new! It is a dragon painting, titled "Brick" as he is brick colored (one of my very favorite colors!). He has a bit of a "look" about him, as if he may be flying off to cause some trouble (pretty typical dragon behavior as far as I'm concerned). "Brick" is an original acrylic painting, 2.5" x 3.5" on canvas. He is up for a $5 starting bid, with free shipping! To see his auction listing, detail pictures, and perhaps make a bid, please follow the link below the picture: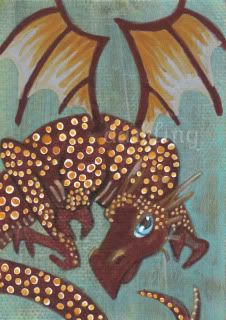 "Brick" original dragon ACEO auction
Also listed for auction on eBay is one of my older dragon paintings- "Attitude on the Edge" is an original 8" x 10" acrylic painting, featuring two dragons perched on a castle ledge. These two are definitely not pleased with whatever they are looking at! If only they would turn around to see the beautiful starry sky behind them! This painting is up for auction starting at just $35, with free shipping as well! The link to make a bid is below the picture: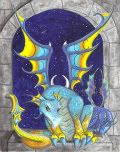 "Attitude on the Edge" original 8" x 10" dragon art
I think that is all for the time being. I think it is now movie time for me...:D
xo!
Em
Visit my website- tons of images available as art prints and posters:
darklingtreasures.com
Join me on Facebook:
http://artist.to/darklingtreasures