Hi Hi!
So, I have finally found some time to post a blog! Yay! This weekend was crazy busy, and also the weather was super beautiful, so I was outside for most of it :)
I've got just two new pieces to share tonight- one dragon and one really nifty fiber art book...
This fiber art book is an amalgamation of a bunch of supplies I sis not want to throw out- but I swear to you it is not garbage! I had a bunch of two inch squares of primed canvas- trimmings from larger sheets that were so smoothly gessoed that I just couldn't get rid of them...So, I painted a bunch of two inch paintings instead! This book is in a bluebird theme- four original cartoon bluebird paintings are hand sewn onto raw pieces of canvas; I've also added a hand painted bluebird patch for the front cover, and a chipboard skeleton key on the back...
This piece is ACEO sized (2.5" x 3.5")...embarrassingly "shabby chic" in style *shudder shudder* but still beautiful. To see loads of pictures and perhaps even adopt it into your home, please follow the link below the picture:
"Bluebird Fiber Art Book"
Also new tonight is another dragon ACEO original- "Rose Petal" is a little pink dragon (hence the name)...I do not normally work in pink, as it is not one of my favorite colors, but...I thought "what the hey"...So, to make up for the girly color, I gave him a crabby look, heh heh. He is up on eBay for a $5.00 starting bid, and free shipping- to see the listing details and perhaps make a bid, please follow the link below the picture: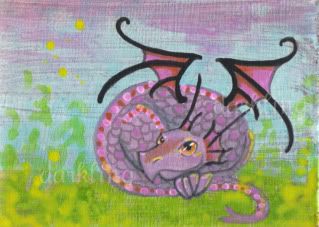 "Rose Petal" dragon fantasy ACEO
There is a lot more of my dragon art at reasonable prices on eBay this week- to see them all, just click
here
!
I am still slowly working on my latest Cartoon Aquarium piece- an octopus, he's weird and cute. Tomorrow looks like it's packed from dawn til dusk with running around, so I don't know when I'll get to finish him...I think it's going to be a long and ridiculously busy week. I'm getting a little tired just thinking about it :)...I better get to bed early tonight.
xo!
Em
Visit my website- tons of images available as art prints and posters:
darklingtreasures.com
Join me on Facebook:
http://artist.to/darklingtreasures