Happy Friday!
Well, I have gotten a good portion of the way through my website gallery updating, but I took a little break to write and post this :) Two brand new dragon pieces tonight, one "Inkling" and one ACEO...
This new ACEO is titled "Brightness"- a purple dragon with big, bright eyes, silently imploring you to smile :D Okay, yes, I am a dork. This is an original painting, measuring 2.5" x 3.5" (acrylics on canvas). "Brightness" is up for auction tonight, starting at just $5 with free shipping! To see the auction details and perhaps make a bid, please follow the link below the picture: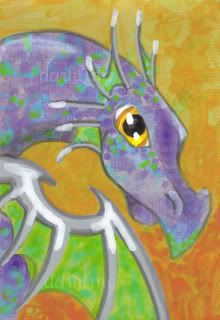 "Brightness" original dragon ACEO auction
The other dragon painting is the next piece in my "Inkling" sub-series- "Inkling 2- Phosphorescence" features two little dragons overlooking a weird glowing light. This original painting measures 7" x 5" (also acrylics on canvas) and is listed in my
darklingemily
etsy shop. To see details and such, please follow the link below the picture: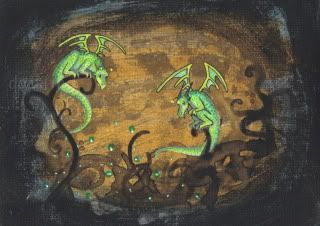 "Inkling 2- Phosphorescence" original dragon art
One more quick thing before I get back to updating my site...Tomorrow (Saturday) I will be putting up an art giveaway on my Facebook fan page- details will be posted tomorrow. This art giveaway is exclusive to my Facebook page, so if you would like a chance at winning some FREE ART, and are not already a "fan", you can get in on the goodness by clicking the link below and "become a fan":
Join the Darkling Treasures Facebook Fan Page
So, now I am going to finish up my work and hopefully head off to bed at a reasonable hour (yeah, right!)
xo!
Em
Visit my website- tons of images available as art prints and posters:
darklingtreasures.com
Join me on Facebook:
http://artist.to/darklingtreasures