Spring!
I've got two new dragon paintings to share with you all! Plus, a reminder about my Facebook exclusive art giveaway!
Dragons first, though. :) "Ladybug Dragons" is a new original painting- I really like this one; it is sometimes difficult for me to work in red, without having it become too overwhelming in the overall piece, but I think this painting came out well :) It features two little black dragons, but instead of dragon wings, these two beasties have ladybug wings! They are hanging out in a woven patch of sunny flowers, chatting away. This is an 8" x 10" acrylic painting (on a canvas panel) and it is available for purchase in my
darklingemily
etsy shop. To see the listing, please follow the link below the picture: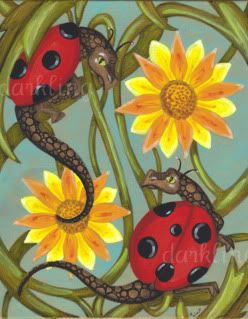 "Ladybug Dragons" original fantasy painting
The other new dragon painting is an ACEO (2.5" x 3.5")- it is titled "Hugs and Warmth"- one big dragon reassuringly pats a smaller dragon on the head, and hugs her close to keep her warm. It's adorable :) This original ACEO painting is listed in auction format on eBay, with a $5.00 starting bid and free shipping! You can view the listing and perhaps even make a bid at the link below the picture: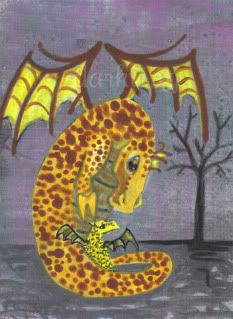 "Hugs and Warmth" original dragon ACEO
Lastly, a reminder that my Facebook exclusive Custom Art Giveaway Contest is still up and running (until tomorrow- Wednesday, 3/17, at midnight)...All you have to do is come on over, become a fan if you are not already, and make a comment on the Contest note! The link to the note (details are there) is below:
Win A Custom Darkling Painting!
Short and sweet tonight! I am about to get back to my desk- I'm currently working on "Inkling #3" and a handful of 2" square paintings for a little mixed media book...
xo!
Em
Visit my website- tons of images available as art prints and posters:
darklingtreasures.com
Join me on Facebook:
http://artist.to/darklingtreasures