EEE! I seem to have finally come out of my slump- of course, it's only been 4 days or so, but i t was the longest 4 days I've had in quite some time...I basically did a bunch of spring cleaning, paper work, sketching, and a little moping here and there- read part of a book, watched some movies...Though there is always a ton of stuff I can find to fill my day, I never feel right when I can't make art...But I do know enough to not try to force it out, I just have to let the creative cycle do its thing.
At any rate, I have three brand new, original ACEOs up for auction tonight! I thought I'd start off small (size wise) and work into some bigger pieces...The new ACEOs are up on eBay, each with a starting bid of just $5 (and free shipping on all!). Again, these are ALL original paintings, done in acrylics on ACEO sized (2.5" x 3.5") pieces of canvas. You can find the links to each auction under their respective pictures, or to see them all on one page, click
here
! In no particular order, they are:
"Blue Bird 1" original cartoon ACEO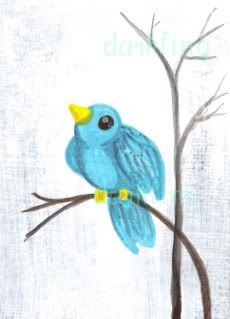 "Blue Bird 2" original cartoon ACEO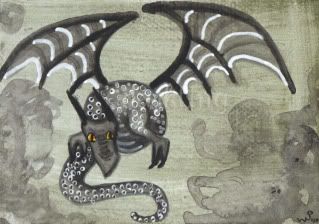 "Grey Day" original dragon ACEO
I do have a few more, but decided not to list those at the moment...did not want it to get overwhelming! Seeing as there's not much to ramble about tonight, I suppose I will be headed back to my desk to get a bit more painting done...
xo!
Em
Visit my website- tons of images available as art prints and posters:
darklingtreasures.com
Join me on Facebook:
http://artist.to/darklingtreasures