Whew...
So, I have been up to my eyeballs busy this week- lots of custom pieces and weird last minute sewing projects, meetings, and a little spring cleaning and gardening here and there; I am pretty much worn out!
But, I do have some new pieces to share! The first is another little fiber art book, very similar to the
bluebird book
, but with rabbits! I like the color scheme in this one- grey and white rabbits, and red, black, and white accents. There are four original mini rabbit paintings, each 2" square, sewn into the raw canvas pages. The inside covers are playing cards (diamonds and spades) and there is a hand painted rabbit patch on the front cover. To see a whole slew of pictures and perhaps even adopt this little book into your home, please follow the link below the picture to my etsy listing:
Little Rabbit fiber art book
Also new tonight is an original dragon ACEO painting- this one is titled "Smokestack"- a smoke breathing dragon sitting on a cloud! He is up for auction on eBay with a $5 starting bid, and free shipping! To see his listing and make a bid, please check out the link below the picture: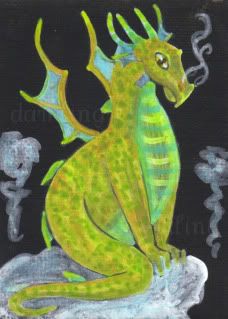 "Smokestack" dragon original painting ACEO
So, I specifically mentioned spring cleaning because I have a bit of a backstock of art, and very limited space, so I will be listing quite a few auctions on eBay in the next week or so; to encourage bidding, I will be starting everything at just 99 cents- lucky me that new fee structures for sellers start soon! I've got some exciting news on the forefront for all of you who enjoy digital tag art, but that will have to wait until my next post ;)
xo!
Em
Visit my website- tons of images available as art prints and posters:
darklingtreasures.com
Join me on Facebook:
http://artist.to/darklingtreasures