I've been painting all day!
I've got two new paintings- a brand new addition to my Inkling series, and a new dragon ACEO as well!
Number three in my Inkling dragon series is "Pedestal"- an original 7" x 5" fantasy painting featuring a little yellow/orange dragon on a drippy ink pedestal. He is available for purchase through my
darklingemily
etsy shop- to see detail pictures and read his blurb, please follow the link below the picture: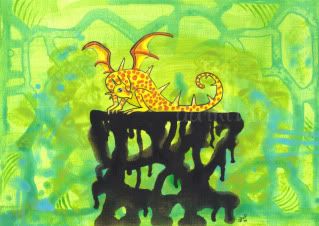 "Inkling 3- Pedestal" original dragon painting
Also, a new dragon ACEO! "Glint" is an original painting (3.5" x 2.5") of a glow bug dragon creature in a strange landscape...I really like the contrast in this piece. He is up for auction on eBay, starting at just $5 (with free shipping of course)! To see the listing details and perhaps make a bid, please follow the link below the picture: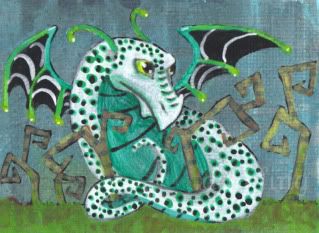 "Glint" big eye dragon ACEO
That's it for tonight- I have been so busy, and it is looking like the art forecast for this weekend will be even busier! So, I am sorry, no rambling tonight, I must get to sketching some new pieces out! Happy Friday all!
xo!
Em
Visit my website- tons of images available as art prints and posters:
darklingtreasures.com
Join me on Facebook:
http://artist.to/darklingtreasures