Oh, weekend, I love you...
In this post, there is a new Cartoon Aquarium octopus, some older ACEO fantasy collage pieces, and a very exciting bit of news for those of you who are into digital tags :)
Firstly, I would like to introduce to you the newest member of my Cartoon Aquarium- "Octavio" is an original 11" x 14" x 1" acrylic painting on gallery wrapped canvas; he fades from orange to yellow starting at his head. :) To read the little blurb I wrote for him, and perhaps even adopt him into your home, please visit the link to the listing in my
zombietoes
etsy shop below his picture: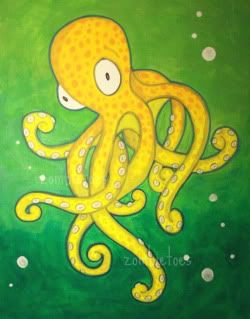 "Octavio" the octopus original painting
Next, I have been doing some spring cleaning, and have dug up some older ACEOs in my collage style- so, I have listed a few of them for auction, starting at just 99 cents each, with free shipping! To see the individual auction listings, just follow the links below the pictures:
"Curiosity" mermaid mixed media ACEO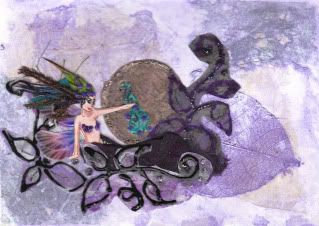 "Nightshade" dark fairy and peacock mixed media ACEO
There are a bunch more pieces up for auction this weekend; to see all of them in one place, just click
here
!
And, very cool news on the digital tag front- I have just begun licensing some of my images through
MyTagArt
! The official release date for my images/tubes is April 2- there will be Cartoon Aquarium images/tubes, some dragons and assorted fantasy images, and even some jesters here and there! I am not a digital tagger myself, as I prefer to paint (wink wink) but I must say, the folks at MyTagArt are super wonderful, warm, and helpful people, and I am very pleased and honored to have my art on their site.
So, that is all for this evening- I am getting psyched up for Wrestlemania tomorrow, and am looking forward to watching the Hall of Fame Induction here in a few minutes, so...I'm out. Enjoy your weekend!
xo!
Em
Visit my website- tons of images available as art prints and posters:
darklingtreasures.com
Join me on Facebook:
http://artist.to/darklingtreasures