I had a rather bland day today- mostly paperwork and stuff, with a bit of brainstorming and sketching along the way- very boring. But, I do have a rather exciting new zombie painting to show off!!
These are the latest flesh eating monsters! This painting is one of my favorites- it kinda freaks me out. I call it "Private Party"- it is a 14" x 11" acrylic painting on a sheet of canvas- it will need a frame. To see details and perhaps even own the original, please follow the link below the picture: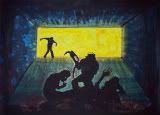 "Private Party" original zombie painting
Also new in zombie art news- prints and posters of my "A Bad Approach" zombie farm house attack painting are now available through my zazzle shop: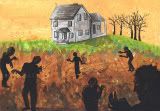 "A Bad Approach" zombie art posters and prints on Zazzle
If you should happen to be interested in owning the original painting, it is
here
in my zombietoes shop.
Now, on to something a bit less frightening: the original "Water Dragon" painting is now up for auction on eBay! This piece is part of my dragon mini series on the elements. It also happens to be one of my personal favorites. "Water Dragon" is an original 8" x 10" acrylic painting (on a canvas panel). It is up with a starting bid of $35, and shipping is free! To see the listing and make your bid, please follow the link below the picture: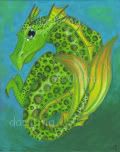 "Water Dragon" original fantasy painting auction
Now, I am gonna get all ambitious and try to make some cookies. I really want them, but I dont want to make them, but I can't have them if I dont make them...It's a vicious cycle that really makes one weigh the importance of junkfood vs laziness.
xo!
Em
Visit my website- tons of images available as art prints and posters:
darklingtreasures.com
Join me on Facebook:
http://artist.to/darklingtreasures